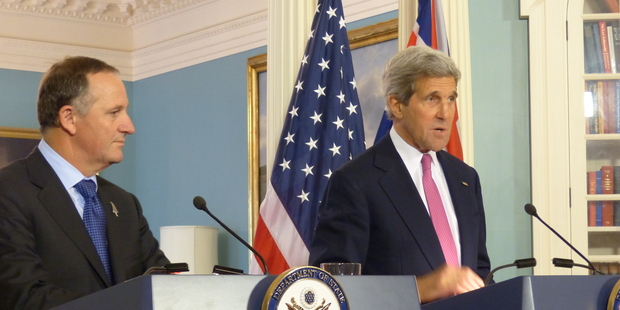 US Secretary of State John Kerry says he knows New Zealand stands with America on Iraq - and he doesn't need to ask to know that.
And he said ISIL, the militia group that has taken control of northern Iraq, was a threat to everybody.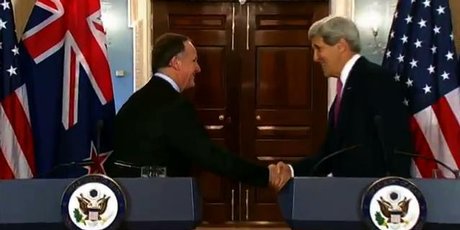 He used his long-scheduled press conference with Mr Key to comment on Iraq after President Barack Obama announced that up to 300 US military personnel would be dispatched as advisers to the Iraq Government and have not ruled out "targeted action" - air strikes.
Mr Kerry was asked if he was seeking practical and moral support from friends and partners such as New Zealand for the action the US is taking.
"We welcome all the support that there is in the world for rule of law, for a peaceful resolution rather than terrorism and conflict," he said, "and we know that our friends - we don't have to ask - this is one where we know that New Zealand stands with us."
Mr Kerry has also been dispatched to the Middle East to talk with regional leaders in the hope of getting a political process underway.
He said the only way to combat ISIL was through strong co-ordination of Iraqi leaders across the full spectrum of Iraqi society and the support of surround nations.
"It is really in the hands of Iraqis to determine their future and we will do everything in our power to keep faith with our soldiers who expended so much to give Iraqis exactly this kind of choice."
Just over 4800 military personnel were killed in Iraq between 2003 and 2012.
Mr Key said he backed "100 per cent" the actions that President Barack Obama had announced today.
He said New Zealand would give $500,000 to UNHCR, the UN refugee agency.
Later Mr Key said it was very clear the US was not looking to go back to the war but if the US was looking for support New Zealand would consider it.
"New Zealand's position in these matters is always in the first instance to look for a sanction-solution and to look to the Security Council to show leadership."
Asked if he was not ruling out giving moral support to air strikes that were not sanctioned by the Security Council, he said "everybody is a long way ahead of themselves and we are not going to buy into that discussion today".
New Zealand had a great relationship with the United States.
"We support them and we don't actually envy the position they put themselves in of having to show global leadership on these issues - really, really challenging issues."
The wide-ranging discussion he had with Mr Kerry included the Middle East, Afghanistan, Iraq, Syria, Yemem, Ukraine "and none of these things are easy for the United States".
"They're certainly not looking to go out there and start wars all over the place. The cost of these wars, both in financial cost and human cost is huge."