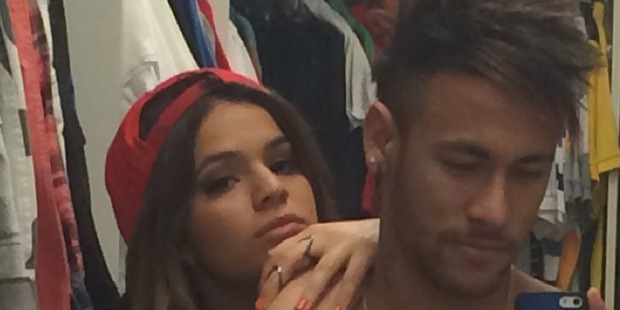 It's the highlight of any footballer's career - performing for their country in front of a global television audience of billions at the World Cup finals.
And for many of the game's biggest stars, their appearance at the Cup is something they'll want a document of forever, which inevitably means an onslaught of selfies on social media.
Neymar, who many considered to be Brazil's best hope of winning the World Cup on home soil, is undoubtedly the king of footballers on Instagram, appearing to document every crucial moment in the tournament with a grinning photograph of himself in various states of undress.
With more than 6 million followers, Neymar has posted 2000 images on Instagram and has given fans around the world a unique insight into the personal life of one of the world's best footballers as he performs on the sport's highest stage.
After scoring two goals in Brazil's opening match against Croatia, Neymar shared a selfie of himself with model girlfriend Gabriella Lenzi.
The shot was taken on a phone with a Superman-themed cover, which perhaps hints at the way the Barcelona striker views himself within the Brazil squad.
Neymar isn't the only superstar spending much of his non-playing time on social media. Before Portugal were beaten 4-0 by Germany this week, Christiano Ronaldo uploaded a photograph to Twitter showing himself and his teammates arm-in-arm, with a motivational message.
And, of course, what better way was there for the victorious German team to gloat after the match? The entire squad posed for a selfie with German Chancellor Angela Merkel, visiting them in their dressing room.
The England squad have been relatively quiet on social media since the Cup kicked off, with the few messages posted being considerably less glamorous.
For example Daniel Sturridge last night shared a photograph of himself sitting in a hotel room in front of a blank television. His accompanying message said he was "fuming" that the screen had broken while he was trying to watch football.
England's nemesis in Manaus, Mario Balotelli, appears to be having a much better time between matches than Sturridge.
His Instagram feed is dominated by photographs of the Italian striker posing happily with his new fiancee, Fanny Neguesha.