Eight-year-old Auckland prodigy enjoying the buzz at top Italian club's training academy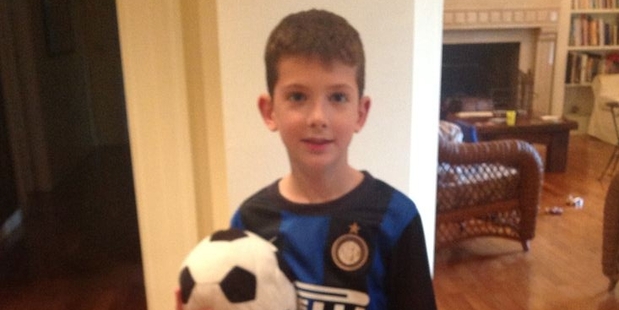 A young New Zealander is rubbing shoulders with some of the stars of the World Cup - and living the life of training and discipline that took them there.
Alex Cooke became the first Kiwi to be accepted into the Inter Milan club's academy in Italy.
Two years later, the 8-year-old has made it through the next stage, when his age group was cut from about 50 to 13 members.
The family moved to Milan when Alex's mother Clare was appointed New Zealand trade commissioner and consul general.
They are now in the midst of World Cup fever, and hosted a party with friends and family to see their adopted country's 2-1 triumph over England.
"It is pretty huge," said Alex's father Peter, who is football-obsessed himself.
"Everywhere you go there are flags and banners off the balconies. It is pretty intense.
"They have big screens all around the squares in the centre of the city. It is definitely building up."
Alex, who is now fluent in Italian, will enjoy more of a link to the tournament than other young fans. His classmates and friends at school include the children of Inter Milan and AC Milan players.
And some of the Inter stars - including Hernanes, a member of the Brazil squad - visit the academy where Alex trains three times a week.
"Alex has got his autograph and all that sort of thing." said his father. "So he's right into it, it rubs off."
Football Club Internazionale Milano, known as Inter Milan outside Italy, was established in 1929 and has always been in the first division.
Mr Cooke said that at the state-of-the-art academy, the same training methods were used right through the age groups to the professionals.
Alex had played football at the Eastern Suburbs club in Auckland's St Heliers, and the move to Italy had given him a great opportunity to see the inner workings of one of the great football clubs.
"He lives and breathes it. The first thing he does every morning when he gets out of bed is check the iPad for the football scores and transfers," Mr Cooke said. "He is just crazy about it."