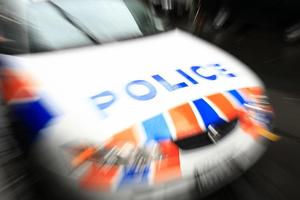 A digger driver who was critically injured after being hit by a train this morning was carrying out work for KiwiRail.
The driver was hit by a north-bound freight train around 9.20am at the southern end of the Raurimu Spiral, on the Main Trunk Railway near Tongariro National Park.
He was trapped inside the digger cab for a short period, before being freed by the Fire Service and later airlifted to hospital.
No-one else was injured in the incident.
The digger driver was a contractor working for KiwiRail at a work site, the company confirmed.
However, a spokeswoman would not say whether he was working on or near the tracks, or why the freight train was travelling on the same tracks while that work was being carried out, saying the circumstances were not yet clear.
"I think it's too early to speculate about any of the factors that might have caused [the crash], and that's obviously what the investigations will be doing. You've just got to let the investigation run its course."
KiwiRail will conduct its own internal investigation, while the Transport Accident Investigation Commission (TAIC) and WorkSafe New Zealand are also investigating.
The train company was not at liberty to disclose details of the man's injuries, the spokeswoman said, or what company he worked for.
Earlier, poor weather hampered efforts to rescue the digger driver, taking emergency services four hours to get the man en route to hospital.
The Taupo Greenlea Rescue Helicopter was unable to take off due to the deteriorating weather conditions, with rescuers drafting in the Waikato Westpac rescue chopper to airlift the man to hospital.
A specialist team from Waikato Hospital, with an emergency department doctor and an intensive care paramedic, were taken onboard the Waikato rescue chopper to collect the man.
He was stablised on the ground, before being flown to the hospital for treatment.
The train driver, the only person on board the freight train, was uninjured, KiwiRail said.
"However, as standard practise [the driver] will be relieved and offered counselling. Counselling is also being provided for other personnel at the worksite.
"Our first priority is on the injured man and the welfare of those others involved in this incident."
KiwiRail said it was not aware of any issues with the train, such as brakes, or whether the horn was working.
Damage to the train was still being assessed.
It was not yet known how long the three investigations into the crash would take, a spokeswoman said.
- APNZ