Warning over old extension cords after Hamilton man smashes his way out of burning home.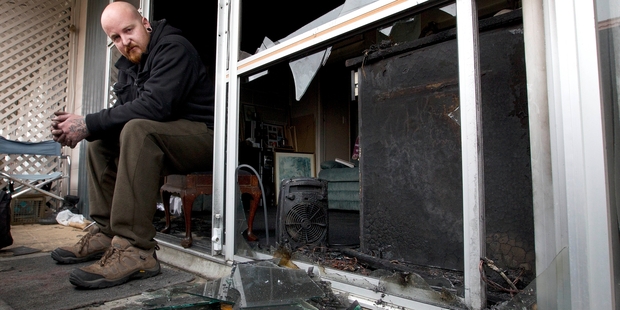 A fire which sent a man fleeing from a two-storey building in Hamilton is thought to have been caused by an old extension cord and should serve as a warning to people to check their plugs and wires.
Andrew Fleming had a lucky escape yesterday morning when sounds created by the blaze in his lounge alerted him to the fire roaring in the corner of his Ulster St flat.
The fire had blocked the only exit from the flat and the 32-year-old retreated to his bedroom where he used an axe to break the window and escape to a drainpipe.
Smoke stung his eyes and he could barely see as he clung to the pipe before two police officers guided his feet onto their shoulders and lowered him down.
A fire investigation found the blaze was caused by an old extension cord which had been threaded through a wall to provide power to a spare bedroom.
Waikato Fire Service area commander Roy Breeze said the fire should act as a timely reminder to people to check for frayed or exposed wire or for any bad bends or cuts in cords - or get an expert to check them. They should also be careful not to overload multi-plug adaptors with appliances that use a lot of power such as heaters and irons, he said.
"It was just a very, very old plug. The casing and the plug had deteriorated. It was so old and had come under load and caught fire." The plug had been rewired to fit through a small hole in the wall.
Mr Breeze said Mr Fleming was lucky given there were no smoke alarms. "It just shows even though there wasn't a tonne of fire damage there was smoke and they were lucky the fire didn't spread."
Mr Fleming said the smoke had stung his eyes and his lungs were burning.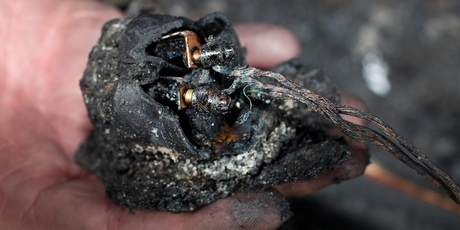 "I was just having so much trouble breathing. I didn't want to pass out. I continued smashing all the glass from around the window. In the process I just got heaps of glass smashed in my face ... I was screaming, 'Someone get a ladder, someone get a ladder,' and that's when I had to climb down the pipe."
Acting Senior Sergeant Dale Smith praised the efforts of the two police officers.
"The two officers raced to the back of the building and persuaded the man to jump and they caught him, just as firefighters arrived."
Taljit Singh, who lived next door, said he was woken by Mr Fleming yelling, "Indian bro help me."
Mr Singh and his flatmate ran out the ranchslider to the shared balcony and saw Mr Fleming's lounge engulfed in flames so they ran around the back where he was hanging out the window. Mr Singh started shouting for other neighbours to help as they searched for a ladder.
Shanice Taniora, who lived in the flat below, called 111. "He wanted to jump out," she said. "At first I think he was trying to climb down because we were rushing around trying to find something to help him down. There was no way he could get out the front."
The fire service arrived shortly after police and put out the fire.
Mr Fleming said he could not afford insurance and had lost all his graffiti-style artwork which he sold. He had cuts on his face and suffered smoke inhalation but discharged himself from Waikato Hospital yesterday.