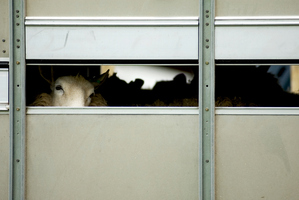 New Zealand sheep being used for lab testing at a top English university are being subjected to unnecessary pain and misery, animal welfare campaigners have alleged.
An undercover investigation by the British Union for the Abolition of Vivisection (BUAV) says sheep at the University of Cambridge are being used for research into neurological disorders, including Batten's disease and Huntington's disease.
The sheep, imported from New Zealand, "suffered greatly, in particular experiencing eyesight loss and disorientation", the group said.
Dr Katy Taylor, BUAV's head of science told the Sunday Mirror: "It is clear sheep used in the research suffered greatly and at times unnecessarily."
Their undercover investigator worked inside the university's department of Physiology, Development and Neuroscience for two months.
They found that sheep would deteriorate to the point that they struggled to walk in a straight line and would bang their heads into stationary objects.
"They experienced weight loss and strange head movements," BUAV alleged. "Some sheep had invasive implants surgically implanted into their brains. The implant caused a large head wound, which if the sheep knocked their heads could worsen. Packs connected to the implant recorded brain activity for 24 hours.
"The sheep were kept in this facility undergoing behavioural tests and monitored as their condition deteriorated until they died or were killed."
The group also alleged animal cruelty.
It said when one sheep refused to go into a cage for weighing, a staff member became impatient and "rammed her in, breaking the sheep's leg. The animal had to be euthenised, BUAV claimed.
Another sheep had to be killed after suffering severe weight loss and becoming "virtually blind", the group said.
The animal welfare group was encouraging supporters to "write polite letters" to Home Office Minister Norman Baker urging him to terminate the licence for the research project.
A Cambridge spokesman told the Sunday Mirror it would investigate, and that the university took "very seriously" any allegations of mistreating animals.
"The university strongly agrees with, and rigidly follows, guiding principles emphasised by the Home Office on the need to refine protocols, keep the numbers of animals used to a minimum and replace the use of animals with other methods where possible," the spokesman told the UK paper.
"We believe good science and good animal welfare go hand in hand.
"The UK has the most rigorous animal welfare regulations in the world, and Cambridge has always adhered to these."
- APNZ