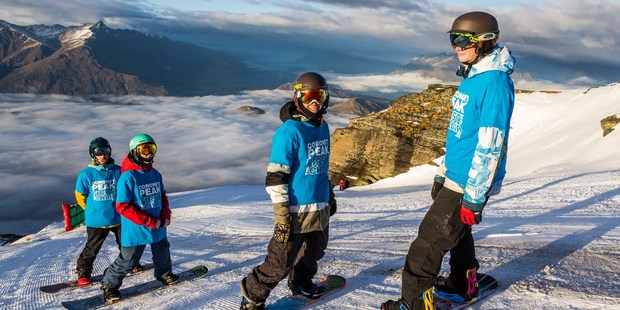 A quartet of excited teenagers camped out under picnic tables overnight to earn the bragging rights of enjoying New Zealand's first snow powder this year.
Finn Duffy, Tiarn Collins, Jacob O'Donoghue-Price and Cooper Neilson, all 14 years old, were among the 600 people who basked in opening day at Coronet Peak, which today became the first ski area in Australasia to open this year.
About 300 excited skiers and snowboarders lined up this morning for the doors to officially open, under blue skies and not a breath of wind.
Finn, Tiarn, Jacob and Cooper received a 'First on the Chair' T-shirt for their efforts of cold-endurance.
"We've never done this before, but we thought we'd do it to check out what the competition was like," said Finn.
"It was great to have the run to ourselves, it was hard and fast."
The day start with a celebratory spray of Amisfield bubbles. Overall about 600 skiers and snowboarders enjoyed a day on the mountain with an average 30cm of snow on the main trails.
The Meadows Express lift also opened for novice and early intermediate skiers and snowboarders.
"Today is all about Queenstown locals dusting off the gear and having a ski," said ski area manager Ross Copland.
"We've got the best snow in the Southern Hemisphere at this early stage of the season thanks largely to the great investment in snowmaking and the reliability that gives us.
"Looking ahead we're excited about Winter Festival and the re-launch of night skiing with doubling of the terrain."
Among the avid snow lovers were Queenstown local Yuko Wakushima and her children Cool, 12, and Anru, 10.
"We're so excited to be up here," she said, beaming from ear to ear.
- APNZ