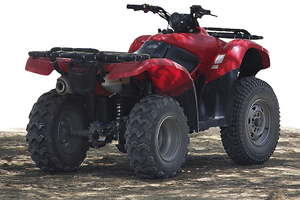 The uncle of an Australian tourist who died after falling from a quad bike has backed pursuing legal action against the adventure tour company, despite it going into liquidation.
Safety regulators want to push ahead with court action against now-collapsed Riverland Adventures, which was charged after Chelsea Callaghan suffered a fatal injury on a quad bike safari in October 2012.
The 38-year-old from Melbourne was on life support for 10 days before she died, after coming off a quad bike near Port Waikato on a Riverland Adventures tour.
The company was charged with breaching the Health and Safety in Employment Act. The maximum fine which can be imposed on conviction is $250,000.
Riverland Adventures has since gone into liquidation, and in their first report liquidators say the company cannot pay for a lawyer, nor for any "contingent claims that may arise".
However, Chelsea's uncle Des Callaghan said he "absolutely" supported Worksafe New Zealand pushing forward with its case, as Riverland Adventures deserved to be "held to account".
"I know it's like getting blood out of a stone, but I think if they were brought before the court and cop some sort of penalty, even if they don't pay it, at least they've got a conviction or something.
"I know there's probably no money - I'm not looking for money - I just think that these people should be held to account, and front and face the music, and cop what they deserve," Mr Callaghan said.
One of the liquidators, Peri Finnigan, told the Weekend Herald they are not consenting to the legal action continuing as liquidators were obliged to consider the views of creditors.
"The continuation of the proceedings will prejudice the creditors with admissible claims in the liquidation," she said.
The Weekend Herald understands an application by Worksafe New Zealand for the legal action to continue is due to be argued in the High Court at Auckland next Friday.
A report issued last month estimates that liquidators can get just over $21,700 from the sale of the company's assets. Riverland Adventures' operator Percy Kukutai was charged with manslaughter but this was withdrawn last November.
- Additional reporting APNZ