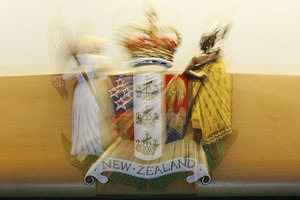 An AFL player who lashed out and broke the wing mirror of a passing car in Wellington claimed he was then beaten up by the car's occupants.
Wellington-born Fletcher Barclay appeared in Wellington District Court this morning charged with wilful damage for breaking the mirror.
Barclay, 19, who was raised in Paraparaumu but moved to Australia to pursue an AFL career, played for the Morningside Panthers last year and earned a call up to the Brisbane Lions Reserve side.
On June 1 in downtown Wellington, Barclay lashed out and broke the wing mirror of a passing car after leaving a nightclub in an angry mood, Court duty solicitor Philippa Sullivan said.
A carload of people drove passed him and verbally abused him, she said.
Barclay retaliated by hitting the mirror, "expecting it just to ping back" and not to break.
He apologised to the car occupants and offered his phone number.
Ms Sullivan said the car followed Barclay and then the occupants got out and "beat him up".
Judge Peter Hobbs asked police to confirm this, but police prosecutor said it "was the first I've heard of it".
Judge Hobbs said that if police could corroborate the circumstances, he would discharge Barclay without conviction. But they could not, so Barclay was convicted and ordered to pay $259 in costs.
Barclay was in court with a sling around his arm. Ms Sullivan said outside the courtroom that he had had a shoulder injury that was aggravated when he was assaulted.
- APNZ