Hundreds gather at funeral as family express the pain of losing a well-loved mother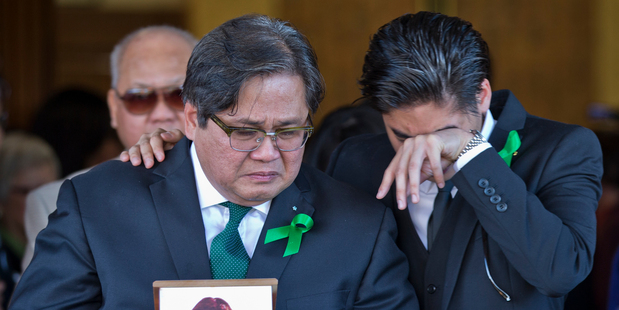 An emotional congregation said goodbye to a "kind, open-hearted and fun" woman who was taken before her time, at the funeral for Blessie Gotingco yesterday.
Hundreds of people packed into St Mary's Catholic church in Northcote to pay their last respects to the mother of three, who was murdered as she walked home from work almost two weeks ago.
Mourners spilled out the church doors wearing Blessie's favourite colour, green, with their funeral black. Many had green ribbons on their lapels to pay tribute to the Tower insurance worker.
The box of her ashes, covered in photographs of the smiling mother, sat at the front of the altar, surrounded by bouquets of flowers.
In a heartfelt tribute, her elder son, John, described Blessie as "simply the best", and a devoted mother who lived for her children.
He described the "cruel blow" of his mother being "taken before her time".
"These past days I have reflected long and hard about the hand that life has dealt me, I have endured sleepless nights ... I find myself wishing this was all a bad dream and mum will walk through the doors of our home again."
The "wounds caused by her passing are still very raw", he said, but he praised his father, Antonio, who had been a "beacon of light and a pillar of strength" to the rest of the family at this difficult time.
He described the family's gratitude for the love and support shown by Blessie's workmates and the wider community.
"If a person's life can be valued in the aftermath of their passing, then my mother, during the course of her stay here on earth, had won so much love from so many people, she was truly worth her weight in gold, and then some."
Parish priest Father Craig Dunford said he had "never seen or experienced anything like [the community support in the wake of Blessie's death] in my lifetime".
The outpouring of goodwill showed there was "incredible goodness in our community", he said, and that "one single act does not diminish the many acts of goodness".