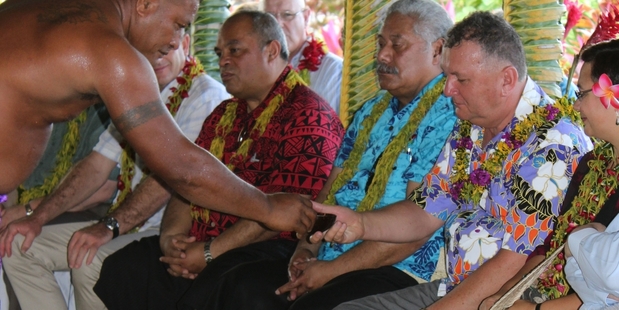 Shane Jones appears to be getting fond of being addressed as "Your Excellency" as a new ambassador, but it remains unlikely he will ever be called humble.
One of the strangest sights on the Pacific trip has been seeing Mr Jones, who resigned as a Labour MP only two weeks ago, in his new role as the Prime Minister's wingman around the Pacific.
He is only 10 days into his job and, by his own judgment, the new Pacific Economic Ambassador is clearly going to be a raging success.
"This is what I have committed to and you will see I will be a very robust and powerful figure in this role."
Fortunately, there are those who are determined to keep his feet on the ground. When John Key said during a reception at the New Zealand High Commission in Samoa that Mr Jones was getting attached to "Your Excellency", David Shearer was quick to chip in with a grin that he was known as "Your Averageness" to his friends.
Mr Jones is still in transition - and has been subject to a bit of tug-of-war between Mr Key and his former Labour colleagues on the trip, partly because the PM likes to rub it in.
Asked exactly what Mr Jones' job description was, Mr Key said he would be an important conduit between the Pacific nations and New Zealand on its aid programme and would be adequately resourced and staffed for the role.
Mr Jones himself is making the right noises about the need to ensure development is sustainable and governance issues are resolved, as well as ensuring New Zealand works with other donor countries, including China, "rather than contributing to any perception of tension".
When Mr Jones was asked how much time he intended to spend in the islands compared to New Zealand, he paused for only a split second before declaring that would be "weather dependent" .
Just the day before he had been swanning around looking at rebuilt fales in Samoa with a coconut in his hand, pondering aloud about the glories of his new job compared with spending hours in select committee meetings. It seems clear the islands will see a lot of the new ambassador dedicated to their economic development.
He should be warned that the Prime Minister will be watching to ensure he doesn't slip into island time too quickly. It is understood Mr Key managed to get a photo of Mr Jones slumbering on the air force Boeing the delegation is travelling in. Rumour has it that he texted it to Foreign Minister Murray McCully, querying how much Mr Jones was being paid.