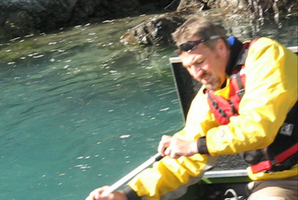 A jetboat owner who was killed when he was thrown from his boat died "doing something he loved", a coroner says.
Christchurch man Leslie Grant Stirling, 44, was killed after becoming trapped under his boat, which had flipped on the Waimakariri River on April 22, 2012.
"The evidence shows Leslie loved his boat and loved driving it and was fatally injured doing something he loved," Coroner Sue Johnson said in her inquest finding released today.
On the day of the crash, Mr Stirling and his brother David had spent the day in the boat and were about to finish the trip about 3.30pm.
"They were going to call it a day but Leslie told David he wanted another quick run", Coroner Johnson said.
The boat became stuck on a bank, but the brothers were able to free it by about 7.30pm, after it had become dark.
Leslie Stirling then drove the boat to deeper water downstream, where his brother was going to join him.
"(David) saw the boat take off and go round three bends then it went out of sight," Coroner Johnson said.
"David heard three loud bangs and assumed the boat had hit the bottom again."
When he arrived at the scene, he found the boat upside down and his brother's legs sticking out from under the side of the boat.
He freed his brother and performed CPR for 20 minutes.
No cellphone was available so David Stirling made the half hour trip back to his van where his phone was and called his brother's wife who called emergency services.
Maritime New Zealand Safety inspector Jeffrey Horne, who examined the boat, told the coroner it probably rolled after hitting exposed rocks.
David Stirling said that in hindsight they should have secured the boat when it first became stuck and retrieved it the following day in the daylight.
There were no communication devices on board, but Coroner Johnson said even if David Stirling had reached emergency services earlier, his brother's injuries were "severe and fatal".
He had suffered from injuries to his chest and abdomen and drowned, she said.
- APNZ