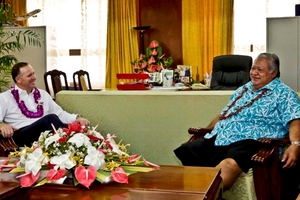 Prime Minister John Key says Cabinet is considering increasing the number of Pacific Island workers who take part in New Zealand's seasonal work scheme - and Fiji's return to democracy could help that happen.
During the 'ava ceremony for Mr Key's visit to Poutasi village, the village chief Tuatagaloa Joe Annandale said its people were grateful for the help New Zealand had provided in the aftermath of the tsunami and since then.
He said a further way to help was to increase the numbers eligible for New Zealand's RSE (Recognised Seasonal Employer) scheme - under which Pacific Islanders work in horticulture areas such as fruit picking for a few months each year.
Mr Key said Cabinet was considering whether to increase the scheme's current 8000 annual limit, including 1,100 who come from Samoa each year.
The return to democracy of Fiji could help force the Government's hand.
Mr Key said Fiji would return to the RSE scheme if it went ahead with planned September elections. "Without some minor increase [to RSE] that would require a reduction in everyone else's numbers to accommodate Fiji. We probably wouldn't want to take that step so there may be a minor increase."
He said the Pacific Islands and employers had both called for a lift from 8000 to about 10,000, but Cabinet needed to be sure that it did not mean New Zealanders would miss out on the jobs. He said Cabinet had asked the Immigration Minister to do more work on the proposal to ensure every effort was being made to recruit local workers first.
About one quarter of Poutasi village had been to New Zealand under the work scheme, and each brought back about $5000.
"You can imagine how significant that is because there is a not a lot of paid employment in the area."
Under fire over claims Pasifika migrants would be increasingly excluded under plans to limit inward migration, Labour said it would welcome any increase in Pacific workers coming to this country under the RSE scheme.
"Just as Labour will continue to protect and support the Samoa and Pacific access quota system, we would welcome an appropriate, well-monitored increase under the RSE scheme'', immigration spokesman Trevor Mallard said.
"This would need to be subject to monitoring to ensure there is no worker exploitation and that New Zealanders are not available to do the work."
Mr Mallard said that once Fiji returned to democracy it should be able to participate in the RSE scheme too.
Pacific Island Affairs spokesman Su'a William Sio hit back at criticism from Mr Key who told reporters in Samoa yesterday that National was better for Pacific Island voters than Labour.
"Contrary to some recent scaremongering and politicking, we value highly our friendship with the Pacific migrant community who make a very significant contribution to New Zealand's economy and society'', said Mr Sio.
"Sadly, it appears that New Zealand's Prime Minister is using an official international visit to play politics."