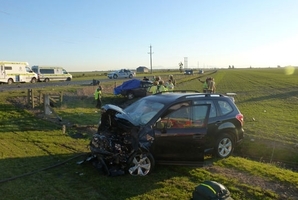 A Dutch tourist has been charged after a crash in Canterbury that killed a mother and two young girls.
Sally Vanessa Summerfield, 49, her daughter Ella Yasmin Summerfield, 12, and Ella's friend Abigail Ann Hone, 12, were killed when their car was hit by a vehicle which allegedly ran a stop sign at an intersection on Thompson Track near Rakaia.
Ms Summerfield's 48-year-old husband Shane, who was driving, suffered serious injuries.
The driver of the other vehicle, a 52-year-old man from the Netherlands suffered moderate injuries.
He has been charged with three counts of careless use of a vehicle causing death and one charge of careless use of a vehicle causing injury. He will appear in Christchurch District Court on Tuesday
Canterbury Road Policing manager Inspector Al Stewart said the behaviour of the driver who ran the stop sign was "absolutely unacceptable".
"Given the weather conditions at the time of this crash, and visibility available to the driver there is no reason at all why he shouldn't have seen the vehicle," Mr Stewart said.
The Queen's Birthday road toll rose to five last night when a 36-year-old Eketahuna man died when he crashed into a power pole after an apparent fight with his partner at the Eketahuna Rugby Club.
Adrian James Ihaka, or "AJ" as many knew him, drove away from the clubrooms, crashing into the pole on the corner of Herbert St and Alfredton Rd, just 600 metres from the club.
Club president Dennis Dougherty said Mr Ihaka was a former player for the senior reserves and had been at a "mini-function" at the clubrooms as part of the club's 125-year jubilee celebrations before the crash.
Mr Dougherty said the bar staff at the clubrooms had told him Mr Ihaka had "a disagreement over a domestic arrangement" with his partner and drove away erratically.
People living in the area witnessed the crash and a volunteer firefighter made the 111 call.
Police, fire and ambulance crew attended the scene but Mr Ihaka, the only occupant in the car, had been thrown from the car and could not be saved.
The first holiday weekend fatality was probably caused by tourists in a campervan crossing the centre line, police say.
Police named the woman who died in the crash near Whitianga on Friday night as Auckland woman Robyn Eilleen Derrick.
Police said the crash was still being investigated.
Ms Derrick was a passenger in a four-wheel drive involved in a collision with a campervan.
The driver of the 4WD was seriously injured and taken to Auckland Hospital.
Two people travelling in the campervan were also injured and taken to Thames Hospital.
Last year there were no road deaths during Queen's Birthday weekend. The official period began at 4pm on Friday and ends at 6am on Tuesday.
Watch: Triple fatal crash in Canterbury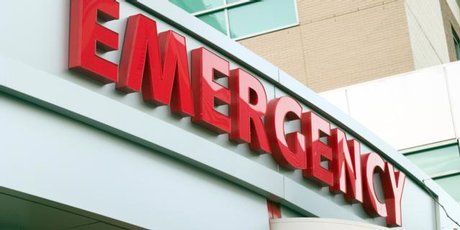 - APNZ