Aucklanders heading north this holiday weekend are urged to use SH16 to beat congestion on SH1, but extra care is needed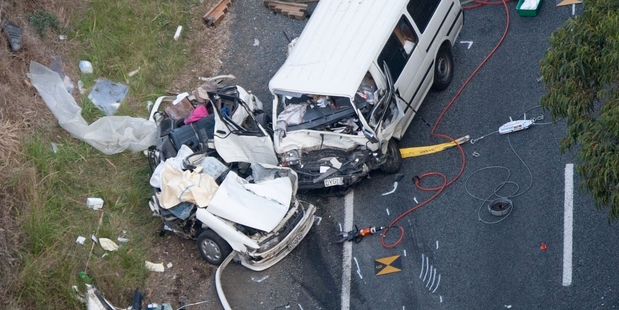 There are two sides to State Highway 16, the western route from Auckland to Northland.
It is one of New Zealand's gems, a scenic road with views of green, rolling hills and endless blue sky on a good day.
Part of the route known as the Twin Coast Discovery Highway, it links urban Auckland with Wellsford via Kumeu, Helensville and Kaukapakapa.
But it is also a killer that has claimed far too many lives.
Since January last year, there have been 15 fatal or extremely serious crashes on SH16. It's a figure mirrored on many other rural arterial routes and one local police are desperate to drive down.
In the lead-up to Queen's Birthday weekend, the Herald spent a morning in a highway patrol car.
This weekend, the roads out of Auckland will be jammed with city-dwellers making their escape for a few days of rest and relaxation. Many of those heading north stick to State Highway 1, where police expect major congestion.
That's where SH16 comes in. It is a road the police would like to see holidaymakers opt for to ease the traffic load this weekend.
But while they are encouraging motorists to choose the scenic route, they are also warning of the dangers of the country highway.
"We're trying to lift the profile of SH16. On congested weekends it's much better," said Waitemata road policing chief Inspector Mark Fergus.
"But there has been an increase in crashes, including a fatal over Easter on that stretch. We want to encourage people to use SH16 but if you're going to use it you've got to be aware that it's a rural highway.
"People don't drive to the conditions or treat it like a rural highway ... It's not the road that's killing people, it's the way people are using it. You can't straighten out every bend in the road, you can't take out every corner. That's why people on our highways need to be aware of the conditions and respect the road."

We want to encourage people to use
SH16 but if you're going to use it you've
got to be aware that it's a rural highway ...
It's not the road that's killing people,
it's the way people are using it.

Mr Fergus took the Herald out, alongside serious crash unit veteran Senior Constable Karl Bevin, to help highlight the national holiday weekend road safety campaign — "Make it to Monday".
The campaign is being launched this morning in Wellington by Police Minister Anne Tolley, Acting Commissioner Viv Rickard, Assistant Commissioner (road policing) Dave Cliff and New Zealand Transport Agency chief executive Geoff Dangerfield.
While there were no fatal crashes last Queen's Birthday weekend, there were 64 reported injury crashes, 13 of which resulted in serious injuries. More than half the crashes occurred on open roads like SH16.
Mr Fergus said "serious" injury crashes were those that were just seconds or millimetres off being fatal. In most cases they left people with permanent and often debilitating and disabling injuries.
"The difference between serious and fatal is only a matter of inches. People tend to get caught up on the fatals but we need to remember there are people that are also seriously hurt."
Mr Fergus said every fatal crash carried a social cost of about $3.8 million.
"So every time we see a fatal, that's $3.8 million that could have been spent elsewhere. A serious crash costs $400,000 that could be spent on education or health.
"But that's not even considering the personal impact — the loss to a family, the loss of a person's quality of life."
On SH16, there is no shortage of evidence of lives destroyed by crashes — most of them preventable.
White crosses mark the spots where lives were lost.
The road is narrow in places, the corners are tight and it definitely was not built for speed.
Being rural, and very unlike SH1, there are many driveways, small settlements and other potentially fatal distractions. It doesn't have the same level of signage or road markings as the nearby major highway and can be treacherous in bad weather.
But despite that, the road is safe when driven properly.
Mr Bevin has attended more crashes on SH16, and other roads in the Waitemata district, than he can recall.
He says the majority of crashes on SH16 have one thing in common — drivers not adjusting to the conditions.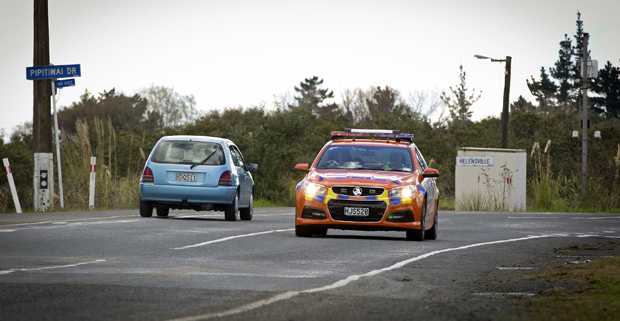 Being a rural road, there are plenty of potentially fatal distractions, but SH16 is safe when driven properly, say the authorities. Photo / Sarah Ivey
Over the years, as the Rodney area has grown and become more connected to Auckland city, the road has improved — but as Mr Bevin says "there is only so much we can do".
He has seen crashes there that "people shouldn't have walked away from", and crashes that would have been avoided if the driver had taken just a little more care.
"It's a beautiful stretch of road. But it's a tale of two highways. The more motorists who know about SH16, the better.
"They have got two highways to choose from but they need to pay more attention — if you're going to use SH16, be aware it's a rural highway and be patient.
"Remember, you're not sitting in traffic — you are the traffic."
The New Zealand Transport Agency is also encouraging motorists to try SH16, and echoed the police warning.
"Even during holidays, SH16 carries a lot less traffic than SH1," said NZTA Auckland and Northland regional director Ernst Zollner.
"As long as people remain aware they're driving on a mostly rural highway through farmland with few opportunities to overtake safely, SH16 is a less busy and smoother alternative to SH1."

Queen's Birthday weekend toll
• The official holiday road toll period for Queen's Birthday weekend starts at 4pm tomorrow and ends at 6am on Tuesday.
• The road toll of zero in 2013 was the lowest ever for the holiday weekend. The previous lowest was one, in 2011. The highest toll was 24, in 1973.
• The most common driver factors contributing to crashes during Queen's Birthday weekend in 2013 and 2012 were travelling too fast for the conditions, inattention, fatigue, failing to give way, travelling too close, losing control and alcohol.
Safety tips from the Automobile Association
• Remember the ABC for safe driving: stay Alert, take Breaks and be Considerate.
• Get a good night's rest and don't drive when you are tired.
• Increase your following distance if roads are wet or visibility is poor.
• Take breaks at least every two hours.
• Share the driving if you can.
• Before a long journey, check your warrant of fitness, tyre pressure, oil and windscreen washer fluid.
• Drive with your headlights on in the daytime.
SH16 victims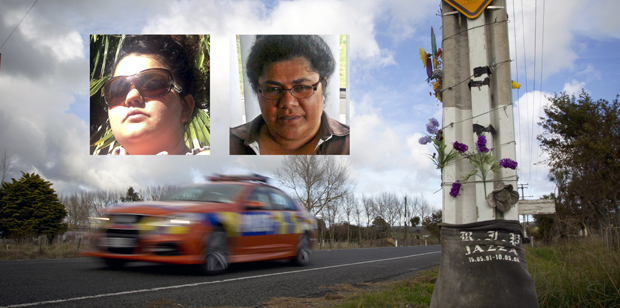 Cheyenne Hemana (left inset) and Alofaifo Afaese. Photos / NZ Herald, Supplied
Three of the crashes in State Highway 16's fatal toll:
• Alofaifo Afaese, 40, was killed on April 17 when the Mitsubishi Pajero she was a passenger in was involved in a head-on crash on SH16 near Kumeu. Mrs Afaese's husband, Neru, was driving and their children were in the back. The crash is still under investigation but preliminary reports showed Mrs Afaese was not wearing a seatbelt, and died when she was thrown from the vehicle on impact. The Afaeses' two sons had to be cut from the vehicle with serious injuries.
• March 2013 saw one of the most horrific fatal crashes on SH16. Parakai teenager Cheyenne Hemana, 17, was driving her sister's three children when she collided with a van near Helensville. Miss Hemana, who did not hold a driver's licence, is believed to have crossed the centre line. She died at the scene, along with her nephews, 2-year-old Mananui, known as Majesty, and Moashon Harrison, 11. Mananui was in a carseat in the back of the car and Harrison was in the front passenger seat. The boys' 6-year-old sister Messiah survived, but suffered serious injuries.
• Earlier this year, a 21-year-old hospitality worker, Holly Elizabeth Hodge, pleaded guilty to hitting and killing motorcyclist David Jenner on SH16 last August. Mr Jenner was riding his Suzuki motorbike when he was hit by a Mazda driven by Hodge, who had been forbidden from driving. In the Waitakere District Court, Hodge admitted crossing the centre line and narrowly missing an oncoming vehicle before colliding head-on with Mr Jenner.
Serious Crash Unit (SCU)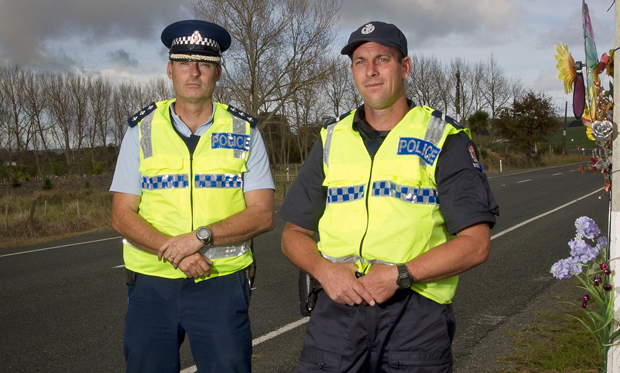 Inspector Mark Fergus and Senior Constable Karl Bevin. Photo / Sarah Ivey
Every time a crash occurs on a New Zealand road and someone is killed or seriously injured, a specialised police team is called in to find out why.
Senior Constable Karl Bevin is part of the Waitemata Serious Crash Unit (SCU), which covers West Auckland, the North Shore, Rodney and the motorways between Orewa and Bombay.
His team are called out soon after police are alerted to serious crashes.
"Generally you get there and ... you've got a crash, you've got occupants of the car wandering, people injured or dead, people being interviewed. You've got members of the public, ambulance staff, police and traffic backing up," he said.
"You've just got to calm it down. I wait for ambulance [staff] to do their thing and then we tie down the basics. It's a logical process, it's sort of like peeling an onion layer by layer.
"You always maintain a professional approach, but it's always in the back of your mind that it's somebody's family member, somebody's child, mother, father, son or daughter," Mr Bevin said. "Those things are always in our thoughts."
While he felt for the victims and their families, he could not let that affect his job.
"It's my job to continue on and ascertain why that life has been taken. That's my focus."