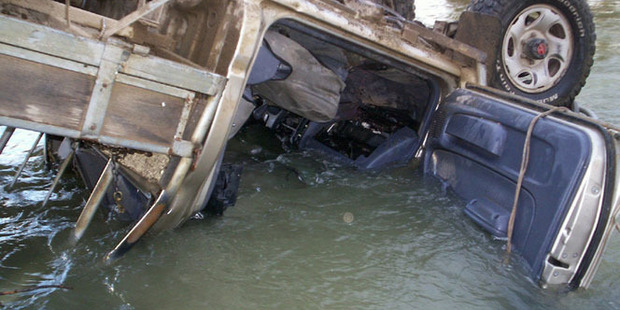 Five seconds are all that stood between David Greer and death.
The 57-year-old Maniototo sheep and beef farmer was trapped underwater in his truck in the Kyeburn River, and he needed air.
''I remember thinking if I did not get there [to oxygen] in the next four or five seconds, it would be all over.
''I don't know if I could have held my breath any longer. Once I took that first gulp of water I don't know if I would have got out.''
Although he cannot remember hitting the water, as his truck plunged off the side of the Scott Lane bridge east of Ranfurly on Friday afternoon, he thought: ''This is not good''.
His next memory was realising his head was underwater, a foot trapped underneath the clutch, and a knee jammed against the steering wheel in the crushed cab of his Toyota Hilux, upside-down in the river.
''It was quite a battle ... I was having trouble twisting round getting up to the air ...
I fumbled around and tried to open the window and that seemed more comfortable. I stuck my torso out the window so I could breathe but my legs were still stuck in the cab.''
After getting his head above water, Mr Greer tried to stay calm and take stock of the situation.
''I tried to yell for help but it was pretty weak and pathetic against the roar of the water. I knew I had time before the water cooled me down too much.''
Mr Greer's neighbour, Trina Steele, arrived at the scene while on her way home and called her husband and brother-in-law to assist, before holding Mr Greer's head out of the water so he could breathe.
''My ears were full of water and dirt and dust and gravel. I was not exactly sure of what was going on and what they were trying to do,'' he said.
Help came in the form of a tractor, driven by farmer Chris Steele, which slightly raised the truck with its lifting forks to help keep his head above water.
''From when the truck was lifted the panic went away,'' he said.
Fire brigades from Ranfurly and Naseby attended and freed Mr Greer from his truck and helped him to an ambulance, before he was flown to Dunedin hospital by the Otago Regional Rescue Helicopter.
''I was pretty close to hypothermic. They took my temperature and it was 32-something.''
About five hours after the ordeal began, he was discharged from hospital about 9pm and taken home by his partner, Rose McDonald.
''They stitched up my head, bandaged me up and took X-rays but it was just whiplash.''
As well as a gash across his forehead and other cuts and bruises, he had given his nose ''a fair whack''.
''I've got two beauty black eyes, so I'm not pretty.''
Mr Greer thought the cause of the accident might have been slippery running boards on the bridge after a rain shower.
There was nothing different from how he approached the bridge at any other time he had crossed it in the past 40 years, but once his wheels started skidding he could not bring the truck back in line, he said.
He wanted to thank all of the emergency services staff who attended the accident, and particularly the Steele family.
The accident would not make him change his ways much, as he was already a cautious person, but it had made him realise how fragile life was, he said.
His family had been ''fairly quiet'' and were pleased it had ''turned out the right way''.
He would take a few days off, cared for by his partner, while workers took care of the farm.
A keen curler since leaving home, he had recently returned home from representing New Zealand at the world senior championships in Scotland, and hoped to play again next week.
''I will probably do something more for the Steele family in due course. I truly thank everybody,'' Mr Greer said.