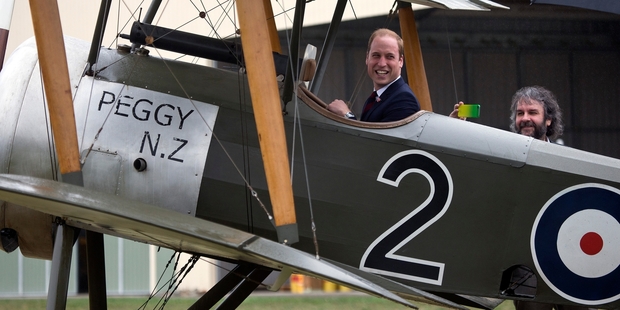 It was only a year ago that he gave up his wings as a Royal Air Force rescue pilot, but it appears the lure of the skies may be just too tempting for Prince William to resist.
Speculation that the Duke of Cambridge may soon be back in the cockpit is gathering pace after reports that he is considering taking a role as an air ambulance pilot. He stepped down as a search-and-rescue pilot with the RAF in Anglesey last year to embark on fulltime royal duties.
Plans are reportedly now being drawn up for the Prince to take a "day job" with the East Anglian air ambulance service near his country home in Norfolk.
He is understood to have told aides he is not yet ready to take on fulltime royal engagements. A royal aide told the Sunday Times that the Duke's stance was supported by Prince Charles, who is said to have regretted leaving the Royal Navy too soon.
The aide said: "The Duke is fully committed to his foundation and charities, but he feels he has not yet got flying out of his system. Should the Duke and Duchess grow their family, the Duke is keen to take on a role which enables him to see them most days. The royal family is fully supportive of the plan."
Yesterday, sources close to the Prince did not deny the suggestion that flying an air ambulance was a possibility. Last month, the Daily Telegraph revealed how the Duke said he hoped to gain a commercial pilot's licence and was itching to get back in the air.
In New Zealand, he told a Christchurch dignitary he was "longing" to go flying again, and was anxious to keep up his flying hours. A commercial pilot's licence would enable him to be paid for flying civilian aircraft, such as air ambulances.
Royal aides have already said that when the Duke finishes his current "transitional year", as they describe it, he will take on a new role over and above his royal duties.
On Thursday, the Duke and Duchess will visit an air ambulance team during a trip to Crieff, in Scotland.
The East Anglian service, located close to Anmer Hall, the couple's home near Sandringham, is run as a charity and was launched by the jockey Frankie Dettori in 2000 after he survived a plane crash.
However, the Duchess may not be rejoicing at the news that William is set to strap himself back into a cockpit. In the foreword to a book about RAF wives to be published this week, she writes: "I loved my time in Anglesey when William was serving with RAF search and rescue.
"I cannot pretend that I didn't feel anxious at times when William was on shift in howling gales, knowing that he was out flying in extremely challenging conditions, but he loved doing it and I always felt incredibly proud of him."