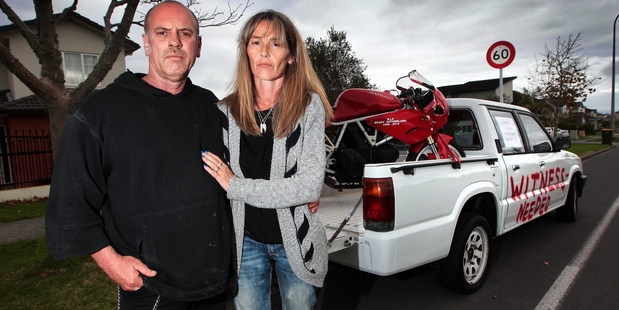 Every day, the parents of teen motorcyclist Brody Sutherland park their son's red Ducati metres from where he died on a busy East Auckland road — hoping a passing motorist will come forward with crucial information.
It has been six weeks since the 17-year-old was run over after coming off his bike just 400m from his Flat Bush family home.
Grieving parents Maria and Brett Sutherland fear the drivers involved in Brody's accident will avoid justice and have taken their appeal for information to the crash site.
Since Mother's Day, the couple have driven a ute with their son's motorcycle strapped on the tray and parked it metres from where police road markings indicate their son died.
Said Brody's mother Maria: "We're on a mission. We need some answers. We owe it to Brody."
She believed her son was heading to a friend's house for a boys' night out after work on April 11 and a car pulled into his path.
He slid off the bike and, before he could get up, he was struck by a ute coming in the opposite direction.
The couple believe the driver who caused Brody to swerve and the motorist who hit him should be charged, but eyewitnesses are needed for any case to proceed.
"We want the people responsible for Brody's death to be held accountable."
Maria said the sudden death of their son was a devastating blow to the family and she wanted people to know he was not a teenage hoon.
"He's always had bikes," she said.
"He was a natural. He was a really good rider," said Brett, who was looking forward to riding the Bert Munro Challenge Rally with his son later this year.
He said Brody started riding when he was seven years old and was an avid motor-cross and trailbike rider.
He had saved hard to buy the 400cc Ducati, described as his " pride and joy".
"He made a big impact in a short amount of time," said Brett. "He was just one of those kids."
A police spokeswoman said the crash investigation was ongoing. Officers understood the family's concerns and were keeping them updated.
An independent witness had been interviewed but police were still keen to hear from anyone who may have seen the accident, she said.