Kimberley White went ahead and got her education degree, driven by a last conversation she had with her late mother.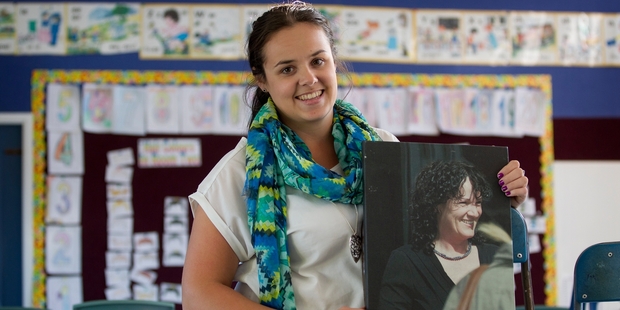 On September 22, 2009 Helen Meads and her eldest daughter had a conversation about the future.
Kimberley White, then 17, wanted to become a teacher and Mrs Meads told her to go to uni, get her degree and achieve her dream. The next day Mrs Meads was murdered in the garage of the family's Matamata home, gunned down by her husband Greg after she told him that their marriage was over.
Four months later Ms White left for university, spurred on by that last conversation with her mother, and last week graduated with a Bachelor of Primary Teaching and a Diploma in Education Studies from Massey University. For Ms White, now 22, the degree didn't come easy. Alongside classes, assignments and exams she had to find a way to cope with her mother's death - and the murder trial that followed. Every day was a challenge, but she was determined not to let the tragedy destroy her future.
"It was really hard, it was the little things that were magnified. Like if I didn't do so well on a test or something happened outside uni I'd think 'I've got no mum' ...
'I should have a mum here to go to with these everyday problems, but she's not there'."
"I found that really hard to get used to. I always knew Mum was never going to see me graduate, but for the day to finally come and Mum to not be there was really hard."
Ms White is now teaching at a Waikato primary school. She said it was her dream job.
The past four years had been driven by one of the last conversations she had with her mother. It was a Tuesday, the day before she was killed. The pair had been planning to move away from Greg Meads, a violent, abusive and controlling man, on the Saturday. They were looking forward to their futures.
"She told me the day before she died that she wanted me to go to Massey University and she wanted me to get my degree. That's what kept me going, that's what got me my degree, that's what got me to where I am today. It's an amazing feeling," she said. "I know it's what Mum wanted and she definitely would have been proud."
Ms White said moving away from home so soon after her mother's death was hard.
"You can't just ring home after a bad day. It made me feel really alone," she said. "Trying to settle in was really hard, luckily I made awesome friends."
While it was hard to be away, she did enjoy being in a place where no one knew who she was or what had happened.
"When I first went down there I was just Kimberley. When I came back up [to Matamata] everyone knew," she said. "It was nice that nobody knew, it meant that I could just kind of forget about it all."
Ms White said her graduation ceremony was a "very emotional but amazing" day. She was photographed afterwards with her degree in one hand and a photo of her mother in the other.
"It was incredible to say the least. For the last four years I'd gone through blood, sweat and tears to get it done. To finally see that piece of paper was amazing.
"I knew where Grandma and Granddad and my little sister were sitting and I looked up at them and I just burst into tears. As I walked across the stage I was crying. I was so proud and so emotional. I was thinking 'you can't be sad, you have to be proud'."
She wanted other people facing personal tragedy and struggle to know that they could reach their goals.
"The way I see it is you have two options. You can go out there and make something out of your life, or you can climb into a hole and feel sorry for yourself," she said.
"You are in charge of you and it's definitely a mind over matter thing. You need to look at the positives. I used Mum to get me through uni.
"A friend showed me a saying recently. It said life was like a piano - the white keys represent happiness, the black keys show sadness. But as you continue through life, remember that the black keys make music too.
"You need to find something you want to do - don't look at what you can't do.
"Separate whatever is going on in your life from what you could do and make that happen."
Violent end
Helen Meads married horse trainer and breeder Greg Meads in 1997. Her daughter from a previous relationship Kimberley White was 6. The couple went on to have another daughter, Samantha.
In September 2009, Helen told her husband she was leaving him. Days later Meads shot his wife in the throat at close range in the garage of their Matamata property.
At his trial Meads said he did not mean to pull the trigger. A jury found him guilty of murder and he was sentenced to life with a minimum non-parole period of 11 years.
Kimberley and Samantha have been cared for by their maternal grandparents David and Pamela White. Mr White is an ambassador for the White Ribbon Trust, an international movement aiming toend men's violence towards women.
In 2012 he published the book Helen: The Helen Meads Tragedy.