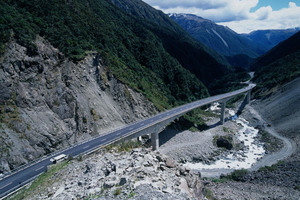 A massive slip near Otira closed the Arthur's Pass highway just after midday today.
The NZ Transport Agency said State highway 73 could be closed for two to three days after heavy rain brought a slip across the road in the Kellys Creek area, west of Otira. There was also a high wind warning between Arthur's Pass and Springfield, and on the Lewis Pass.
Meanwhile, torrential rain overnight brought down a number of new slips on the Haast Pass, again closing State highway 6 at the Diana Falls slip.
The NZ Transport Agency senior network manager Mark Pinner said more than 120mm of rain fell in the area overnight and it was still raining this morning.
"This has resulted in rocks and material on the highway at the Diana Falls slip site, and also a number of trees and other small slips down on the highway from Haast township to Makarora.
"Conditions are such that our geotech experts are unable to get on to the slip face at this stage to complete a thorough inspection of what is happening on site.
We need to ensure the slip face has stabilised before our contractors can begin to clear the highway," Mr Pinner said.
It was unlikely the road would reopen today if the bad weather conditions continued as forecast.
"We apologise for the inconvenience and disruption this will cause to travel plans but our top priority will always be the safety of road users and our contractors," he said.
- Greymouth Star