A lightning strike caused a large fire which razed an historic homestead to the ground near Glenorchy this morning.
The blaze ripped through the main building of the Paradise Homestead, after the freak lightning strike around 9.50am, fire service southern communications shift manager Tim Reynolds said.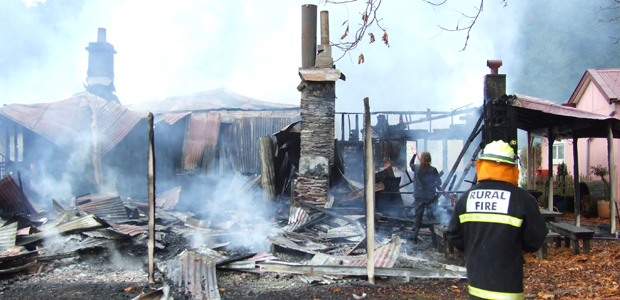 Photo / Otago Daily Times
The category one historic building was built in 1883 by New Zealand's first government architect, William Mason. It is now an exclusive luxury lodge.
The homestead was significantly damaged in the fire, with only the chimney stacks and some outer structural walls left standing.
No-one was injured in the fire, which took five fire trucks, from Queenstown and Glenorchy, to get under control.
The fire was "well and truly over now", Mr Reynolds said.
The historic homestead, which sits on 128ha of land on the Glenorchy-Paradise Rd, was an exclusive retreat, which charged guests up to $1200 a night.
The restored building had been modernised to include central heating throughout the property, including its eight original guest bedrooms and three bathrooms.
It is owned and operated by the Paradise Trust.