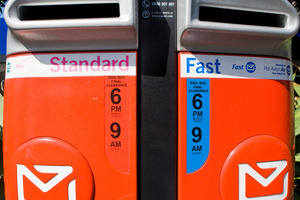 A motorcycle postman who was sacked after being seen by a senior manager riding "erratically", one-handed and while using his mobile phone was unjustifiably dismissed, it has been ruled.
Murray McLennan, a postie of 17 years, was fired for serious misconduct in May 2013 following an complaint from NZ Post's then general manager of delivery Toby Beaglehole, who had spotted Mr McLennan on April 29 riding on Petone Esplanade, Lower Hutt.
In the email, Mr Beaglehole said he was "horrified" by the postie's behaviour and "astonished that [Mr McLennan] was working for us".
He had not wearing a correct uniform, had his mail unsecured, was driving erratically "weaving across the road, riding one handed in blustery conditions, tailgating and stopping abruptly", and using his mobile phone.
Mr McLennan was dismissed from his job, with NZ Post saying it had taken into account the fact that he had recently received a formal warning, and had undertaken a motorcycle refresher training course two weeks before the incident.
However, the Employment Relations Authority (ERA) said the company had relied too heavily on Mr Beaglehole's email, and had failed to thoroughly investigate the claims.
It found Mr McLennan had been wearing an NZ Post issued uniform at the time.
The authority also said it was inclined to believe Mr McLennan when he said he drove one-handed for a period because grit had blown into his eye in the windy conditions and he was trying to wipe it clean, and his weaving on the road had also been due to the wind.
The blustery conditions had also caused the flaps of the panniers on the bike to come loose, he said, but he knew mail would not blow out because he had tied rubber bands around the bundles before leaving.
He had taken his phone out of his pocket at traffic lights because it was beeping, and pulled over at the earliest opportunity, he said.
Mr McLennan denied following too closely behind other vehicles, and had taken evasive action when a car in front had made an illegal turn.
It also transpired that Mr Beaglehole may have tailgated Mr McLennan that day, admitting he may have been following too closely.
The ERA found it was "likely" Mr McLennan's manager had been influenced by the strong tenor of Mr Beaglehole's email, which "impacted on his approach to the investigation", because he reported to Mr Beaglehole.
"He appeared to accept Mr Beaglehole's comments on Mr McLennan's explanations without due scrutiny. This was unfair to Mr McLennan whose explanations were not sufficiently investigated or considered," the authority said.
The investigation was "insufficient ... to reach all the conclusions [it] did", the ERA said.
It ordered NZ Post to pay Mr McLennan $5110 in lost wages and $4900 in compensation. However, it declined Mr McLennan's wish to be reinstated to his old position, saying given the emphasis on safety within NZ Post his use of a mobile phone at traffic lights breached road rules and raised concerns over safety.
A spokeswoman for NZ Post said it was considering its options in the wake of the decision.
"It's unlikely we will appeal. But we are reviewing the decision and its implications before making a final decision."
The company had nothing further to add at this point, she said.
- APNZ