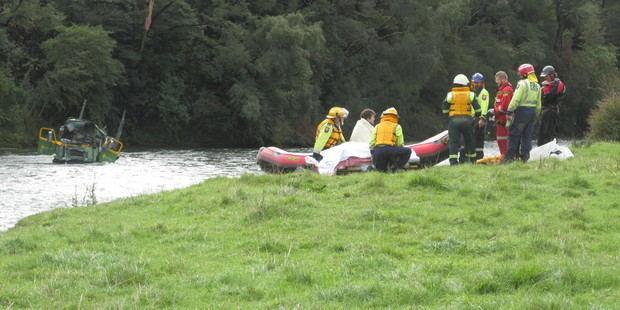 A raft, jetboat and swimmer took part in a dramatic two-hour rescue after a logging truck plunged 30 meters into Buller River rapids today, trapping the injured driver.
Whitewater rafting expert Lisa Cooper was one of the first to the scene of the crash, at a "notorious" corner 3km north of Murchison.
Ms Cooper said when she couldn't see a crashed vehicle she turned around to ask police if it was in the river.
"They said 'yes', I said 'I've got my gear, want me to help?"'
The empty logging truck had been travelling south on State Highway 6 towards Murchison about 10am when it failed to take a bend, went through a fence, across a paddock and over a 30 metre bank into the river, Sergeant Rob Crawford said.
The driver, aged about 50, was trapped in the cab, which was partially submerged.
Ms Cooper put on her rafting gear and swam out to reach the driver.
"He was conscious and very aware of what was going on and very calm considering [the incident]," she said.
She said paramedics had her swim out some blankets to make the driver, who was in a lot of pain, more comfortable.
Police also called upon river specialists including the Buller Canyon Jet Boat, while Ms Cooper called colleagues from Ultimate Descents New Zealand to the scene with a raft and rafting gear.
The raft crew transported the equipment and personnel needed to free the driver.
"Everybody communicated together really well to get the situation sorted the easiest, fastest, smoothest, safest possible way," Ms Cooper said.
The driver was very grateful, Ms Cooper said, "especially by the end when we got him out and on to that stretcher".
A spokesman for the Nelson and Marlborough Rescue Helicopter said the driver was stabilised in the helicopter and flown to Nelson Hospital.
Katherine Rock of the Nelson District Health Board said he was in a serious but stable condition.
Tasman Police spokeswoman Barbara Dunn said the rescue was a combined effort, and police had begun investigations into the crash.
How it unfolded:
* About 10am logging truck fails to take corner on SH6, crashes over a bank and plunges in to Buller River 30m below.
* Police arrive shortly after, followed by passing whitewater rafting guide Ms Cooper, who swims to the cab to assess the driver's condition.
* For 20 minutes, Ms Cooper swims to and from the cab, trying to make the driver as comfortable as possible.
* A fellow raft instructor arrives with a raft that can take out fire service officers to the truck.
* A jet boat arrives to assist with the operation.
* Two hours later the driver is freed from the cab, put on to the raft and returned to shore.
* He's flown by rescue helicopter to Nelson Hospital in a serious but stable condition.
- APNZ