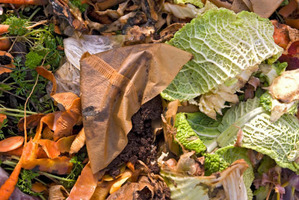 The first trial household food scrap collection on the North Shore has been supported by only 40 per cent of 500 households which were given two special bins.
Although the number of bins presented was below the 60 per cent target, this was an "encouraging start" for the three-month trial, said Auckland Council solid waste manager Ian Stupple.
Yesterday's collection in Northcote Central was the first of three collection days in the trial area this week covering 2000 households.
Few food waste bins had the wrong materials, said Mr Stupple, which meant those who took part understood what to do.
However, one resident put out the kitchen caddy instead of the 23-litre green bin, which is supposed to take liner bags from the caddy.
A tour of streets by the Herald showed overflowing green bins were not big enough for the amount of waste - mainly old fruit - that a few households needed.
Mr Stupple said he wanted households with excess material to let the council know so extra bins could be provided.
Putting her green bin out on the street last night in readiness for this morning's collection in Milford, Heather Vincent said she had in put one-and-half of the free compostable bags given to her for the kitchen caddy.
"I have always done my recycling and I have not used my in the sink disposal system now this collection is available."
In Takapuna, which has its turn for the food waste collection tomorrow, Joan Bidwell said she had tucked the caddy under a stool in her kitchen and since Friday had filled it with peelings, avocado skins and paper towels.
"I'm impressed by my normal rubbish bag having half less in it and I'm glad to be taking part in the trial," she said.
Households taking part in the weekly service trial were given free compostable liners and as a thank you, prepaid rubbish bags, which usually cost $2.20 each.
Food waste makes up about 40 per cent of rubbish bag content and in a land fill rots into the greenhouse gas methane.
The food waste is being taken to composting facilities that were licensed to process it.