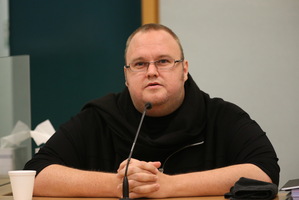 Accusations of dishonesty have flown back and forth at John Banks' trial for filing a false electoral return, as internet entrepreneur Kim Dotcom denied he made up stories about the MP.
Mr Dotcom is giving evidence on the second day of the hearing in the High Court at Auckland.
He has said Banks visited his Coatesville mansion in June 2010, where Mr Dotcom offered to give his ultimately failed Auckland mayoralty campaign $50,000.
Mr Dotcom said Banks asked for two $25,000 cheques so the donations would stay anonymous, and nobody would raise an eyebrow if Banks helped Mr Dotcom.
"You are lying, Mr Dotcom," Banks' lawyer David Jones, QC, told him.
"No, you are wrong," Mr Dotcom replied.
Mr Jones suggested Banks never asked for the donation to be split.
Mr Dotcom said that was wrong.
"He's a liar if he says that," he said of Banks.
Mr Jones also suggested Mr Dotcom signed the cheques days after their meeting and his "story" about Banks' request was "rubbish".
"Why two cheques for $25,000? It does not make sense at all. Who donates two cheques each of $25,000? I don't see how that makes sense," Mr Dotcom said.
"Mr Banks is lying, not me."
Banks, the Act Party's sole MP, is defending a charge of filing a false electoral return from 2010 where he allegedly knowingly received political donations from Mr Dotcom and SkyCity that were recorded as anonymous.
In early 2012 Mr Dotcom was arrested on suspicion of copyright infringement. His attempts to seek help from Banks while he was in custody in Mt Eden Prison were unsuccessful and when Mr Dotcom tried to contact Banks after his release, Banks didn't call back.
After seeing publicity about the SkyCity donation, Mr Dotcom said he wanted to let the public know Banks had asked him to make his donations anonymous.
Mr Jones asked Mr Dotcom if he was angry with Banks and the New Zealand government and if he had decided to seek revenge against Banks, who was an important cog in keeping the government afloat.
"I think that has nothing to do with me coming out about the donation," Mr Dotcom said.
Mr Dotcom's recently estranged wife Mona is expected to support his version of events when she gives evidence tomorrow.
Mr Jones asked Mr Dotcom if he had control over her and other members of his staff due in court.
"If I could [control her], she would still be with me now. We wouldn't be separated," Mr Dotcom said.
Mr Jones questioned Mr Dotcom about his criminal history, including convictions for computer hacking and insider trading.
Mr Dotcom said the sentencing judge for his hacking put that down to youthful exuberance, while he believed he was innocent of the insider trading but pleaded guilty to avoid stringing out a court case.
Dotcom's former bodyguard then took the stand to say he rang Banks to see if the two cheques had cleared.
Wayne Tempero said he made the call sometime after Banks visited Mr Dotcom's Coatesville mansion in 2010, where Mr Dotcom offered to donate $50,000 to Banks' campaign.
Mr Tempero said that as he went to fetch a cheque book Banks said to him: "Don't make it one cheque for 50, make it two cheques for 25,000 each.
"I remember Mr Dotcom saying that he was surprised and didn't mind putting his name on the cheque, letting everybody know that it was his money," Mr Tempero said.
He remembered Banks saying it was better to make the donations anonymous so he could help Mr Dotcom in the future.
Earlier Mr Dotcom said Banks was excited to hear of his offer to donate money, but Mr Dotcom was irritated that Banks wanted to keep his donation secret.
The allegations against Banks relate to two $25,000 donations from Megastuff Ltd on Mr Dotcom's behalf in June 2010 and $15,000 from SkyCity that year.
The trial continues.
- APNZ