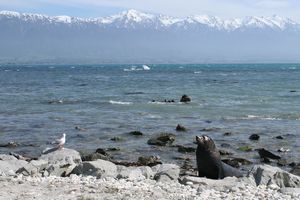 Two Kaikoura men who drowned while collecting crayfish pots last December were not wearing working lifejackets, a coroner has determined.
Ronald Clarence Monk, 75, and Auguste Robin Munro Reinke, 79, died by drowning in South Bay, near Atia Point, Kaikoura, on December 3, when their 16 foot boat overturned, Coroner Christopher Devonport ruled.
The men were friends who regularly went fishing at sea off Kaikoura.
On the day of the deaths the men had met up at the Kaikoura Bowling Club around 6.45am before travelling to South Bay to lift crayfish pots with Mr Reinke's boat.
At about 8.30am, another fisherman, Noel James Tinning, was in his boat picking up pots in Whalers Bay when he noticed a boat bobbing in the water approximately 200 metres from shore with the stern beneath the water.
He could not see anybody near the boat and completed a shoreline search before informing the Coastguard about 9am.
The Coastguard ascertained no one was trapped underneath the boat, and a helicopter later located Mr Monk's body on the shoreline approximately 300 metres from where the boat was first located. Mr Reinke's body was recovered the following day.
Mr Monk was found wearing an inflatable lifejacket that was not inflated. Mr Reinke was not wearing a lifejacket.
Mr Reinke's widow, Valerie Reinke, told the coroner her husband would never wear a lifejacket as while there were jackets on board the boat, they were the "old fashioned bulky type" that would get in the way. She considered him to be an adequate, but not a strong swimmer.
Coroner Devonport said it was likely Mr Monk's lifejacket had previously been activated and then not serviced, and as a result it was in a form where it could only be activated orally by blowing into the mouthpiece to fill the bladder with air.
Sergeant Bruce Cook, who was part of the search team, stated that on both days of the search the swell running through into Whalers Bay was consistent at high tide, making it hard to manoeuvre a boat within the reef.
Coroner Devonport said while he was not able to determine what caused the boat to capsize, it was possible it occurred while they were attempting to take evasive action when hit by a wave while they were in the process of uplifting a craypot.
He reinforced benefit of boat users wearing suitable, maintained lifejackets to prevent similar deaths.
- APNZ