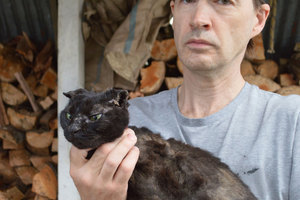 A West Coast woman is distraught after someone deliberately set fire to her cat last week.
Marie Aitken's three-year-old Siamese-tabby had been missing for a week from its home in the Greymouth suburb of Cobden when it returned home with burns all over its body.
Mrs Aitken was so upset by the cruelty she could not sleep.
"She doesn't look like a cat any more ... I've never seen such a thing in my life."
Mrs Aitken said the cat, named Midnight, was "totally scorched" when they found it - both ears had been partly burned off, its nose burned and whiskers singed off. Extensive patches of its back were also burned.
"They've burned right into her ear. We don't know if she can hear or not," she said.
Midnight's own kittens did not recognise it and it now hid away.
"We think she is in shock. She used to love being outside."
Mrs Aitken said the cat went missing on Sunday, May 11, and did not return until Saturday night. Previously, the cat never wandered more than three or four houses away and was not normally away for more than a day.
"We went looking for her but we didn't think she would go far. Normally if we called her she would come."
She suspected at the time the cat had been taken, although Midnight did not like strangers and would not have gone willingly.
"She's a fighter, it would have been hard to get her in a cage."
Mrs Aitken found it at 8.15pm on Saturday when she went outside for a cigarette.
"It was really bad when we first got her ... We called the police right away and they came down - the officer couldn't believe it."
She believed the cat had to have been dropped off.
"It rained heavily on Saturday night and her body wasn't wet and her paws weren't wet or muddy.
"I want to find out who would do this."
Someone else had found the remains of a cat that had been burned on the beach near Point Elizabeth.
It was not the first time that a pet of theirs had been targeted.
"The cat's brother, we think was poisoned and we had a dog we also think was poisoned," Mrs Aitken said.
Last year two cats were caught in gin traps around the same area of Cobden.
The SPCA today arranged for the cat to be taken to West Coast Vets for a consultation.