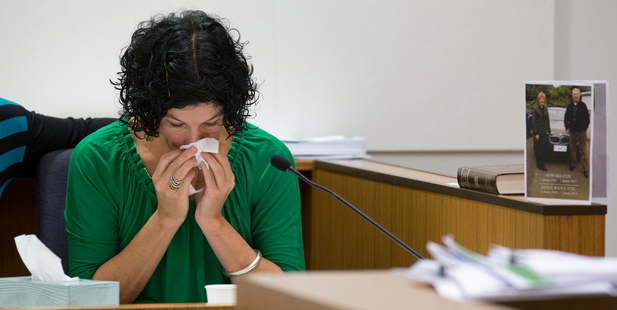 A man killed in the Carterton balloon crash had been relishing life after receiving news he was clear of cancer only weeks before the fatal trip, an inquest has been told.
Sarah Scarlett, daughter of Howard "Howie" Cox, 71, gave an emotional statement at a coroner's inquest into her father's death.
Mr Cox and Ms Scarlett's stepmother Diana Cox, 63, were among the 10 passengers killed in the Carterton Hot Air ballooning tragedy on January 7, 2012.
Pilot Lance Hopping, 53, also perished. A Transport Accident Investigation Commission crash report has found errors he made ultimately led to the balloon's demise.
The inquest into the deaths, before Coroner Peter Ryan, is in its fifth day in Wellington.
Through tears, Ms Scarlett tod, the inquest how her family's world crumbled when they heard what had happened, and how revelations showing Mr Hopping had cannabis in his system at the time of the accident added to their pain.
"Dad and Diana's lives stopped on 7 January 2012 over Carterton on a calm, clear morning while I was sleeping."
A holiday in Fiji Mrs Cox planned to take with her daughter and granddaughters never took place.
"The trip being planned to Japan, having been put on hold when dad got cancer, would never be booked."
"Howie wouldn't get to continue to appreciate the hairs growing back on his legs after living with two years of prostate cancer treatment, to have got the all clear at Christmas," Ms Scarlett said.
She also described her frustration at hearing Mr Hopping had been allowed to operate a hot air balloon.
She had been unable to forgive Mr Hopping, the company that employed him and the Civil Aviation Authority for what had been allowed to happen.
"My dad and Diana's lives were greater than their deaths, but the trauma of their deaths has meant that for the past two years their deaths have been greater than their lives," she said tearfully.
Ms Scarlett told Coroner Peter Ryan she supported recommendations being made around mandatory random drug and alcohol testing in the aviation adventure tourism industry.
She also believed regulations should be in place ensuring adventure aviation operators and pilots complied with safety requirements, including having a current medical certificate.
The parents of another passenger on the flight, 19-year-old Alexis Still, gave evidence earlier today.
Read more:
• Daughter said pilot was the 'safest'
Vivenne and Allan Still said their young daughter and her boyfriend Chrisjan Jordaan thought Mr Hopping was the safest pilot in New Zealand.
Mrs Still said her daughter and Mr Jordaan were "so in love" with one another, and the balloon trip was a gift from Mr Jordaan to Alexis.
Mr Still said his daughter had reassured him on several occasions Mr Hopping was the "safest" pilot in New Zealand.
She would not have boarded the flight if she had known he did not have a current medical certificate, he said.
In addition to requesting the coroner make a recommendation of mandatory random drug and alcohol testing in the adventure aviation industry, Mr Still asked for a review into the process of identification following crashes like the Carterton balloon accident, after his family were made to wait four days to see the body of their daughter - even though she had not been burnt by the fire.
The inquest has adjourned and will continue at a later date.
- APNZ