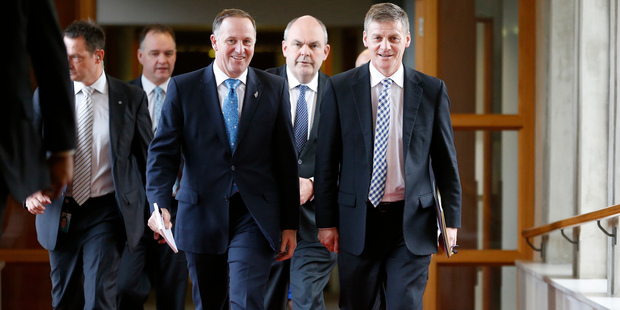 The Treasury gave the show away in the Budget's supporting documents, mentioning that while tax revenue is running at a lower level than expected, some of the Government's intended spending has been "rephased" to produce the surplus it has promised.
Opponents can call it a trick of "smoke and mirrors" but the verdict that matters comes from credit agencies. They are unlikely to be concerned. Spending rephased is spending we might never see unless surpluses can be maintained.
The Budget manages the election-year trick of appearing both fiscally responsible and socially generous. The provision of free medicine and visits to doctors for children under 13 is the main surprise. It is not restricted to families on lower incomes, it will be equally available to those who can easily afford to pay for their children's medical needs. It is not the most efficient use of funds for health, which absorbs an ever increasing slice of the annual Budget.
By contrast, a parental tax credit is to be increased by $70 a week and extended from eight to 10 weeks but it will be better restricted to low and middle income households. As expected, paid parental leave is to be extended from 14 weeks to 16 next year and 18 the year after. It will also become available to those in seasonal or casual employment or who have recently changed jobs.
Those are the main gifts in a Budget that reflects a good economic outlook. It is based on expected growth of 4 per cent this year, 3 per cent next year and 2 per cent for each of the following two years. Even so, despite surpluses, it does not bring net debt under 20 per cent of GDP in the forecast period.
Capital account deficits will continue to add more debt until 2018. The best that can be said is that the debt is still on course to be under 20 per cent by 2020. It is time the Government set itself an earlier target.
With the Christchurch rebuild under way and the dairy prices just past their peak, the economy is at its strongest this year. It is also nearing its capacity, which brings a threat of inflation. Rising interest rates will bite next year. In the circumstances the Government ought to have been able to project a more soundly based surplus in the coming year.
The value of the country's exports in relation to import costs are historically high and the population is increasing very quickly at present. The increase results not just from inward migration but from fewer departures for Australia. In fact much of the inward migration are New Zealanders returning from Australia where the economy is in a lull. The inflow is double the rate the Treasury expected this year and is expected to increase again later in the year.
But these are temporary stimulants, the test of a Budget is the contribution it makes to strengthening the economy permanently. Sound public finances contribute most, as do decisions that improve productivity and competition. This Budget increases tertiary education subsidies in science, agriculture and health and more tax concessions for commercial research and development. Cheque duty is to be abolished and another $1 billion from asset sales is to be spent on projects that look to be of limited economic value: a hospital, a school and the railway.
The Budget's best feature is the value Bill English seems to be getting for little extra spending on public services. Departments know the results he wants and seem to be delivering them without complaint from providers or the public.
They have stopped demanding endless increases in funds and he shared the credit with them yesterday for his surplus.
Doctored it may be, but it will get better.