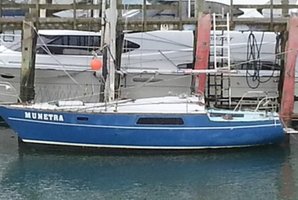 The parents of the German teenagers presumed drowned in Foveaux Strait are returning home and say they know they are leaving their daughters behind.
"When we came here we had such a little bit of hope, yes, but now ..." Jens Steudler, father of Veronika Steudler, said yesterday, wiping away tears.
Veronika and her friend, Lea Tietz, were passengers on the yacht Munetra, which left Bluff on April 16. It has not been seen or heard from since, despite an intensive search.
On Tuesday, Riverton Coastguard crew took Mr Steudler, his brother Tomas Richter, and Lea's mother Anke Tietz to Centre Island, 15km out into the strait. It is believed to be the last place Munetra owner and skipper Andre Kinzler had contact with Bluff marine radio operator Mari Leask.
The families threw flowers into the water and said their goodbyes.
"We know we must leave now and I think they are in good hands here," Mrs Tietz said yesterday.
Since arriving in New Zealand, Mr Steudler, Mrs Tietz and Mr Richter have helped with the land search, were taken to Stewart Island and met Mrs Leask and others.
They thanked police and searchers, saying they had been very helpful and friendly and had done everything they could for their daughters, and for them.
"This has been the worst [time] of our lives, I think, and I hope I must not see it or live it again," Mrs Tietz said.
"But we feel the people here are very good. We leave here taking hard facts, and our feelings from the sea and from the wind ... We think being here will help us and our families to start our life again."
Mr Steudler said seeing where his daughter had travelled had "helped very much".
"Not only because of the facts, but because of the people, we now feel very connected to this country."
Veronika and Lea were schoolfriends who enjoyed the outdoors and sleeping under the stars rather than going to discos, their parents said.
The pair decided to take a gap year after leaving secondary school and arrived in New Zealand about 11 months ago. While here they worked on farms, stayed with several families, visited Stewart Island and walked the Hollyford Track.
Mr Steudler said the girls had been happy in New Zealand, Skyping and emailing regularly. They had last been in touch a few days before leaving on the Munetra.
"They told us they were going on a boat trip, but they didn't give us details," he said.
Mr Kinzler, who had owned Munetra for about a year, was described by police as a learner sailor.
He was criticised by Mrs Leask for heading out to sea equipped with only a hand-held radio, and for ignoring her advice to shelter alongside bigger vessels because waves were being whipped up by strong easterly winds.
Mr Steudler and Mrs Tietz said they had spoken to Central Southland farmer Jim Cooper, who employed Mr Kinzler on his dairy farm.
Mrs Tietz said it was important for the families to get more information about Mr Kinzler because they did not know him, and the meeting with Mr Cooper had been useful.
" ... We know there is no black and white ... If we had not come to New Zealand we would not have got this information and this picture, I think."
Mr Steudler said the girls "had a good feeling" about Mr Kinzler and would not have gone with someone they did not trust or did not consider a friend.