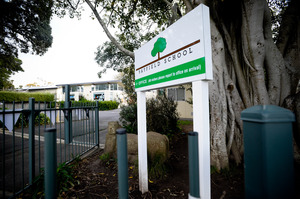 The potential for asbestos contamination at a primary school will keep students away until at least Thursday next week.
Bayfield School in Auckland's Herne Bay closed on Thursday last week after tests showed the possibility that asbestos dust had drifted outside a contained worksite on the school grounds.
Students were kept home from school on Friday and this week they had been attending nearby Ponsonby Primary School, where they were being taught in the school hall and additional classrooms.
Bayfield Board of Trustees' chairman David McPherson said in a statement today that the school would be closed until all demolition work was completed.
The school was demolishing classrooms on site due to leaky building problems, and the school swimming pool was also being removed.
"The safety of our students and teaching staff is paramount, so we won't re-open the school until we are assured, through the Board's independent review process, that the site is safe,'' Mr McPherson said.
Once the school is re-opened, building would not go ahead until the board could verify the work would be undertaken safely, he said.
Two investigations were underway into the process of the asbestos removal.
"We will await the results of these investigations, which will also be shared with the community,'' Mr McPherson said.
"In fairness to the various parties involved in those investigations it is important that we don't jump to conclusions about the process that was undertaken.''
An asbestos-contaminated building was demolished during the school holidays, however the demolished material was not removed from the school site until Friday last week.
There was concern that during that time asbestos dust had travelled from the work site to the rest of the school grounds.
- APNZ