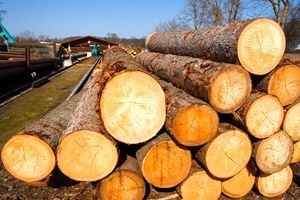 A cable logger has told a judge he got a quick glimpse of a falling log before it struck him and "I was stuffed".
Tau Henare, an employee of Harvestpro New Zealand Ltd, said he suffered a broken arm and leg and a few crush injuries in the accident at Whakaangiangi Forest, Te Araroa on September 17, 2012.
He was facing his seventh operation, was hospitalised for "a couple of weeks" and could not work or play sport since the accident.
Harvestpro is defending a charge in Gisborne District Court of failing to take all practicable steps to ensure the safety of Mr Henare, in that they failed to take all practicable steps to ensure he was not exposed to hazards arising out of a log hauling operation.
Steve Manning, representing the Ministry of Business, Innovation and Employment, said Mr Henare was connecting another batch of logs to send up a slope to the landing zone where a loader was being operated.
A log weighing two tonnes, which was 30 metres away from him, struck the cable logger or, in forestry jargon, the "breaker-outer".
The loader operator told the court that one of two logs slipped from his grappling gear as he moved them from the landing zone to a "surge pile".
Mr Manning told Judge Tony Adeane he would be able to find that the accident happened, that it was foreseeable and that Harvestpro had not taken practicable steps to prevent it.
The defendant's own internal investigation concluded that the loader should not have been working above Mr Henare without communicating to him that it was safe to work.
Harvestpro New Zealand Limited was a client of Earnslaw One, who also found the company to be at fault, said Mr Manning.
Aaron Lloyd, representing Harvestpro, said the company would be at fault if the log fell from the landing area site directly above the area where breaker-outers worked, an area known as "the danger triangle".
But if the log came from the "surge pile" to the left of the landing area, Mr Henare, under industry practice, would be free to work.
The court heard about one-third of the logs on the surge pile hung over the edge.
Expert witnesses for the Ministry said overhanging logs were not an industry practice and presented a hazard.
Mr Lloyd said an expert witness for the company would give a different view.
Mr Henare said forestry staff used a tooting system to indicate what was happening with log movements and when it was safe to work.
Different signals were sent to convey different messages.
He would send a toot signal and move to a safety zone a couple of tree lengths away from his rigging area when a load was being hauled up.
He would toot to the loader operator when the cable rigging had arrived back at his work site, to indicate he was going back to the "danger triangle" to prepare another load.
They did not use two-way radios.
The tooting system allowed all workers to hear the signals.
Another forestry worker said he had a radio but did not see the accident because he was making an entry in a hazard book at the time.
Mr Henare said if the loader operator had a radio, he would have moved away from the danger zone.
He knew there were overhanging logs but did not know the loader was being operated.
He had been working as a breaker-outer for six to seven months and had been told he was ready to sit for NZQA breaker-outer qualifications.
He believed he was a competent breaker-outer who was doing nothing wrong at the time of the accident.
Ministry witnesses questioned the quality of training by Harvestpro.
Proceeding.
- The Gisborne Herald