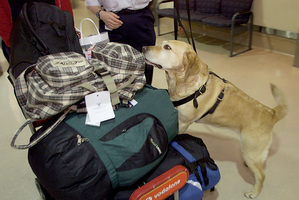 Cash-detecting dogs have sniffed out more than $2.5 million of undeclared or concealed cash at the border in the 10 months they have been operating.
One detector dog led officers to $390,000 on two travellers in October at Auckland Airport - the largest find to date.
Five dogs have been trained to sniff out cash at Auckland, Wellington and Christchurch airports.
Customs Minister Nicky Wagner said the dogs had proved their worth.
"This is an excellent result, showing criminals and others that Customs can and will stop illegal cash movements at the border."
Travellers carrying more than $10,000 must declare it. If they don't they may have to forfeit the money and pay a fine, depending on the circumstances.
The dogs are also trained to detect drugs.
- APNZ