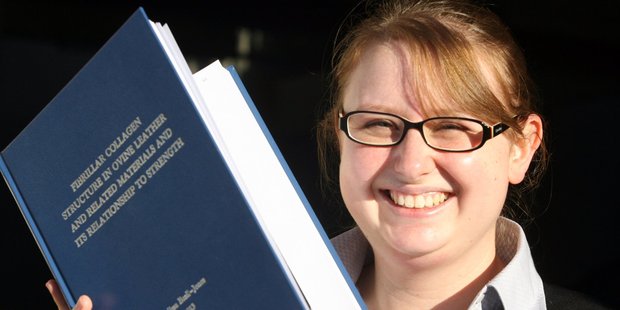 A research breakthrough could net our economy $125 million each year by combining cutting-edge technology with something New Zealand famously has in abundance - sheep.
In discovering why sheepskin is weak, a young Massey University PhD student has provided the foundation for nanotechnology that can strengthen sheep leather for use in shoes and other products.
The concept, brought to fruition by Melissa Basil-Jones's research, is now set to be patented next month by industry group New Zealand Leather and Shoe Research Association (LASRA).
According to the group, which co-commissioned the work, the outcome could be an extra $125 million in export returns for our economy.
Its director, Geoff Holmes, said the idea had been to convert sheepskin leather, considered a low-value product, into the more stable product of footwear.
"But the problem with lambskin and sheepskin for that purpose is the strength isn't very high."
The association began researching the concept but to get to grips with its fundamentals, turned to Massey University for its expertise and equipment.
Using what is called the small angle x-ray scattering technique on a Melbourne-based synchrotron - $206 million giant machine that accelerates electrons at close to the speed of light - Ms Basil-Jones analysed the structure of sheep and cattle leather.
The 27-year-old found that sheep leather was weak because the collagen fibrils - major structural proteins - were poorly aligned compared to the stronger bovine leather.
Her PhD supervisor, Professor of Nanotechnology Richard Haverkamp, and PhD student Katie Sizeland have since built on that fundamental science to work towards developing a technique that strengthens sheep leather so it could be used in high value products like shoes.
Ms Basil-Jones said she was proud of what her research had accomplished.
"Everyone hopes the work they do will have an impact so I would definitely be happy if my research could help increase the value of sheep skins."
Professor Haverkamp described the work as "groundbreaking".
"This could be a shot in the arm for the sheep industry, and potentially a boost the New Zealand economy," he said.
"Sheep skins are currently not worth very much so if we can add that value to them on top of the meat and wool, it will contribute that extra bit of money to make sheep farming more economical."
Mr Holmes said New Zealand's major meat companies had shown a keen interest in the concept, as had shoe manufacturers.
"They are very keen and closely involved in the process. There is some requirement on these guys to change their processes ... but there is real potential there."
Future work would look to apply the same process with deer skin, cattle hides and other products, he said.
Getting under the skin
• Sheepskin has long been considered a low value product because its lack of strength and stability, and its structure is made weaker when the wool is removed.
• New research has helped identify the fundamental aspects of the collagen network which contribute to the intrinsic strength of leather.
• A $206 million machine based in Australia has allowed scientists to peer into the structure of many different species and leathers processed by different methods.
• It revealed that sheep leather was weak because its major structural proteins were poorly aligned compared to the stronger bovine leather.
• Scientists are now taking this work forward to develop a technique that strengthens sheep leather so it could be used in high value products like shoes.