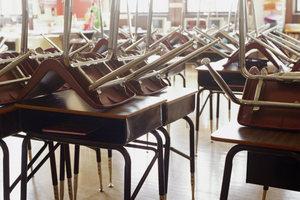 An Auckland couple convicted over their daughter's prolonged absences from primary school have been told their actions verged on negligence.
In the Auckland District Court today the couple, whose names are suppressed, unsuccessfully defended one charge each of breaching the Education Act over their daughter's non-attendance between June and December last year.
The couple, a man and woman both aged in their 30s, argued their girl was sick, while the school said there was no lawful excuse for the nine-year-old not to be in class.
Two Justices of the Peace found the charges proven and convicted the couple, fining each of them $300, the maximum penalty available.
The girl's attendance rate at the decile seven school deteriorated last year and was down to 65 per cent in term four, well below the average school rate of 93 per cent, the court was told.
Only one four-day absence was explained to the school's satisfaction. The couple today said other time off was because of their daughter's tonsilitis and a trip to Fiji.
But the court also heard three hospital appointments to asses the girl's tonsils were missed or cancelled last year.
"It's our view that the child's best interests were not a priority and in fact verging on negligence with the parents," JP Allan Spence said.
He also said communication had broken down between the school and the girl's parents, who had ignored attempts from the school and agencies to solve the situation.
The school's lawyer Margaret Campbell said the girl's average rate of attendance over four years was 68 per cent, meaning she was missing out on a year's education.
And while she was often sick, the girl's mother admitted at times her daughter would try it on to get off school.
The girl's father said she had been withdrawn from some school activities that were causing her illness
"Half of [the absences] probably are due to the way they treat their children," he said of the school.
"They get them to go for cross country runs in the rain, they get them to go swimming in 18 degree temperatures, standing outside until they are blue in the face."
The couple declined to comment after the hearing. Such charges are rarely laid and Ministry of Education says prosecution is a "last resort".
"The prosecution process is triggered only when truancy is ongoing, persistent, parent condoned and when all previous interventions to support a return to school have been unsuccessful," ministry deputy secretary Katrina Casey said.
- APNZ