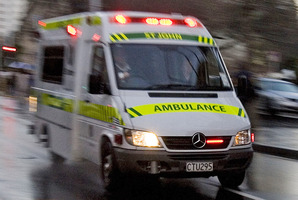 The 111 emergency number had been dialled - a 2-year-old boy had stopped breathing and was turning blue.
Advanced paramedic Geoff Flaus, 57, and another ambulance officer, 35, responded, heading out into the Manawatu night.
But it ended badly - and violently - for those who answered the call for help.
For Mr Flaus, who is on the executive of the New Zealand Ambulance Association union, it's a common tale. Three times this year he has attended callouts where he or other staff have been assaulted.
The father, Daniel Munro, 39, carried his son out to the ambulance. "Then," said Mr Flaus, "he just went nuts."
The Herald identified Munro after finding he pleaded guilty last month at the Palmerston North District Court to repeatedly pushing the female ambulance officer. One shove was so hard she fell - at which point he told her he'd hunt her down and hurt her. He said a high dose of codeine for a head injury and two beers combined to put him in a dark mood.
Mr Flaus: "This 2-year-old sat in the truck [ambulance] with this mother and watched as his father was pinging off the walls."
To get the child to hospital, they "stood outside the door and baited him out, then shut the doors and left with the 2-year-old".
Long-time volunteer Grant Eames of Timaru says abuse and danger has increased in the 37 years he's been involved.
"What most volunteers get out of it is the satisfaction of helping somebody in need," he said.
"Some nights, though, "you're out there and getting abused thinking 'why the hell am I doing this'."
"Volunteers give what they can and some give an awful lot," said Mr Eames.
For New Zealand, though, it's a resource stretched too thin as demand grows. GPs won't take after hours calls and hospitals are trying to reduce emergency department admissions.
"The volunteer [ambulance officer] is the next best thing and some of them don't want to take the responsibility.
"We have large areas that are not covered and quite a number of shifts that are not covered."