New Zealand Herald
photographers took away two of the top honours at the 40th annual Canon Media Awards.
Richard Robinson was named Press Photographer of the Year at Friday's awards, with colleague Brett Phibbs winning Best Photo Essay/Slideshow.
Herald cartoonist Rob Emmerson added to the newspaper's awards haul by being named Cartoonist of the Year.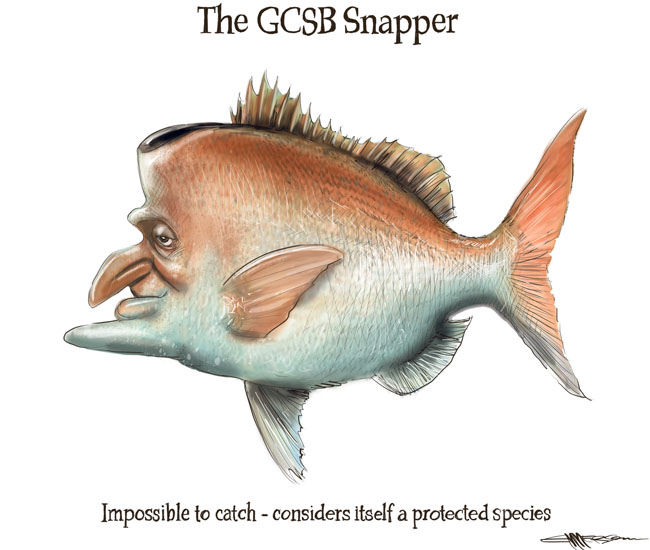 'The GCSB Snapper' cartoon by Rod Emmerson.
Robinson's portfolio of six images included a stunning underwater shot of a rare leopard anemone taken at the Poor Knights Island Marine Reserve and a poignant image of Sir Paul Holmes sharing a moment with daughter Millie Elder at his 2013 investiture.
Judges David Gray of Reuters and Rob Taggart of the Associated Press said Robinson's portfolio of images "showed an ability to shine across all aspects of photojournalism".
Robinson was thrilled with the accolade.
"There have been a lot of great photographers who have won it over the years. The level of photography was insane. I'm really lucky to have won it," he said.
Capturing the anemone was a career highlight and the frame of Sir Paul was "very special".
"The underwater image, it was pretty crazy to photograph natural history happening. I think the photo of Millie and Paul is pretty special too - there is obviously a lot of love in that photo, it was a really special moment."
Gallery: Richard Robinson's award-winning photos
Image 1 of 6
After years of estrangement from his daughter Millie Elder-Holmes, gravely-ill broadcaster Sir Paul Holmes shares a quiet moment with her at a specia
Image 2 of 6
Teklay Zinaw protests alongside fellow Ethiopians living in New Zealand outside the Saudi Arabian Consulate in Auckland in November.
Image 3 of 6
Checkmate! Six-year-old Chantelle Vossen-Chong in action during the 13th annual Auckland Girls Chess Championships in June.
Image 4 of 6
A rare leopard anemone (Antiparactis sp.) floats into the deep blue at Oculina Point in the Poor Knights Islands Marine Reserve.
Image 5 of 6
Eruera Keepa, champion kapa haka performer, works out at the gym to stay fit for the national championships.
Image 6 of 6
Surf lifesaving clubs Omanu Beach and Piha battle it out in the open womens competition at the Piha Big Wave Classic in Auckland in February last yea
Phibbs' entry was a series of photographs taken in San Francisco at the America's Cup.
The judges said Phibbs showed his talents in capturing the important moments, while including the colourful side of what was one of 2013's biggest stories not only for New Zealand, but also in world sport.
The Herald won 16 Canon awards across print and digital disciplines, more than any other publication.