Fatal Easter road crash leaves four-child family without mum and partner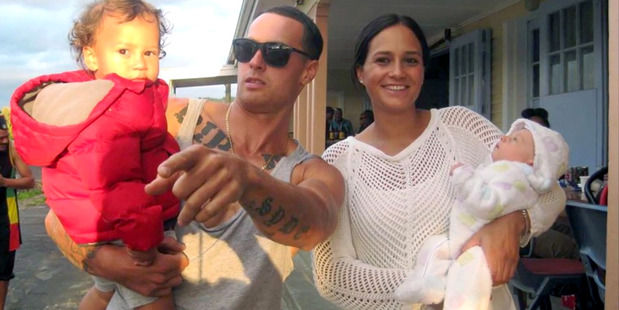 Blade Nathan-Burdett looks around his Whenuapai home. It's a drizzly day, and there's not much to smile about.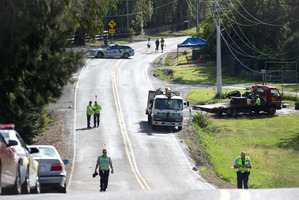 Pictures of Nathan-Burdett's beloved partner Lysette Brown adorn the walls. Nine-year-old Kitana, Trinity, 6, and baby Taya, just 4 months old, are there, too, on a board filled with snapshots of the happy young family.
Then there's 18-month-old Nick, at home today. "I'd like to know what he's thinking." Nathan-Burdett says, looking at his son.
On Easter Monday, Brown, 27, was driving on the Coatesville-Riverhead Highway to her roadside coffee business, when her vehicle and a truck collided.
The truck driver, understood to be Buniad Zakeri, was delivering chairs to the wedding of his sister Shukreya.
Nathan-Burdett wants answers, but empathises with Zakeri.
"I don't know if it's something that could have been avoided," Nathan-Burdett said.
"But if it was just an accident he's probably going to be pretty gutted anyway, about what happened." The Zakeri family wanted to talk to Nathan-Burdett but he said it was still too soon.
"I don't think we're ready for that."
When police turned up at his house on Easter Monday, Nathan-Burdett was still in bed.
Earlier Brown had had second thoughts about working. "I could hear her saying: 'I don't want to go to work any more'. She was too tired because [Nick] was keeping her up."
But she gave the business everything, even when times were tough, winning customers over with her smile and friendly way.
"My little brother came in and said, 'The cops are here and they've asked to speak to you'. I don't know what I thought. I just didn't think it would ever happen to her, to us."
Four people died in crashes that weekend, the highest Easter toll in three years. Police said if current trends continued, another 200 people would die in car accidents this year.
"There are no real words that can help someone deal with that," Nathan-Burdett said.
"Everyone just has to deal with it in their own way, and remember your kids need you. You just have to be there and be strong for them."
Friends travelled from Thailand and Australia for Brown's tangi. Supporters brought food, even sent cots for the children and helped out however possible.
Nathan-Burdett said his partner was an exceptionally kind, decent, happy person. Not all people treated her so well, and at times some took advantage of her trusting nature, he said.
Brown's two older children are from a previous relationship, but all four kids get along well. "I think the older girls will miss the two young ones," Nathan-Burdett said.
The family will move from their home to live with friends in Kelston. "It costs too much. It's too big."
He will donate some of his surplus possessions, probably to the Salvation Army.
Attempts to contact Zakeri were unsuccessful, although a family member said he needed time, and asked for privacy.
"We're just thinking about the family," he said. "It's too much ..."
A Waitemata police spokeswoman said the Serious Crash Unit was investigating and inquiries could take months. No charges have been laid.