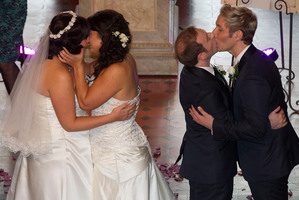 Complaints against a church ad inviting people to learn about overcoming "issues with same-sex attractions" have been dismissed.
The Advertising Standards Authority found the advertisement for Paihia Baptist Church did not breach standards.
Read more:
• Anger over seminar to stop same-sex attraction
The church placed the ad in a community newspaper saying "Have you issues with same sex attractions? Come and hear the life story of a husband who had and with support overcame these issues. He and his wife have helped many others."
Authority chairwoman Jenny Robson noted that one complainant said the advertisement was motivated by bigotry and another said "having same sex attractions is normal and to suggest otherwise is close minded."
She acknowledged the complainants were offended by the advertisement, but found it did not breach the code of ethics or the code for people in advertising, which relates to how people are portrayed in ads.
She confirmed that while it was a contentious issue, advocacy allowed for advertisers to promote their beliefs and opinions.
The advertisement was an invitation to be informed about one person's experience and was offering an information service to those who might share similar beliefs, the decision said.
The authority said there were no grounds to proceed.
The service on April 13 drew backlash on social media and a protest was planned for outside the church, however only one person picketed the service.
- APNZ