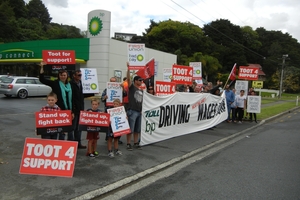 Disgruntled petrol tanker drivers will be protesting for fairer wages at an Auckland petrol station tomorrow.
Six of the eight petrol tanker drivers from Toll Carriers Northland are entering their second week of industrial action in a claim for pay rates closer to what they allege drivers for other major oil companies are receiving.
FIRST Union organiser Jared Abbott said the six drivers have been bargaining since January with the Australian company for a collective agreement.
However, so far the company has been unwilling to match industry rates, which in some cases are $10 an hour more than the Toll workers are paid, he said.
The strike began last Thursday and affects deliveries to petrol stations BP and GAS in the Northland region.
The drivers and their supporters were planning to picket BP Greenlane tomorrow from 10am till 12pm, Mr Abbott said.
"While other petrol stations engage companies that pay their delivery drivers a fairer wage, BP is happy to sit by and preside over much poorer wages.
"They need to front up and be a part of the solution to low wages at Toll Carriers."
FIRST Union spokesman Edward Miller said the Northland drivers were on a different collective agreement to their colleagues across the country.
The average tanker driver was paid between $27 and $33 an hour, however some of the striking drivers were paid a mere $20, he said.
It wasn't fair that employees who were doing a job which required a lot of experience to be on such low wages, Mr Miller said.
There were also health and safety implications as it was a massive risk having fatigued tanker drivers on the roads, he said.
Last week Toll NZ spokesman Christopher Whitefield said the company had been negotiating with the union for some of its northern fuel drivers since January and hoped to have any differences resolved shortly.
"As the current dispute only affects a very small number of employees, Toll has enough certified and compliant fuel drivers to ensure its customers' fuel supplies will not be disrupted."
BP spokesman Jonty Mill said the dispute was between Toll and their employees. Supply lines were being maintained through BP's own fleet of drivers and other contractors.
"Our focus is our customers. We certainly respect the freedom of expression and we are aware of the strikes but we maintain our obligation to ensure that A, there's a safe environment, and B, our customers aren't intimidated."
If that was impeded police would become involved, he said.
- APNZ