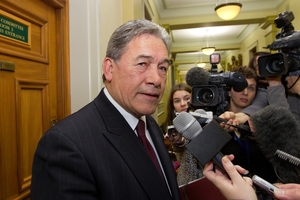 New Zealand First Leader Winston Peters is disputing leading lawyers' views that his party's rule to fine MP's who jump ship up to $300,000 is unenforceable.
The rule was was inserted into NZ First's constitution after Brendan Horan was ejected from the party in late 2012 but refused to resign from Parliament. However it is yet to be ratified.
Constitutional law expert Andrew Geddis of Otago University has said the rule has no legal foundation while public law expert Matthew Palmer pointed out that once an MP left a party they were no longer bound by its constitution.
"With the greatest respect to Mr Geddis, he doesn't know anything about this stuff", Mr Peters said this morning.
He noted Mr Geddis had referred to the legal action that followed when he left the National Party in 1993.
"If he's going to cite my case, he could at least get the underlying principle right.
"The principle finding of that case was that a party had the right to choose its own candidates or determine which candidate they would pick."
"If that is the principle of that case then the party has the right to pick a candidate who is successful and expect that that candidate be part of the proportionality. If that candidate is not then the principle of MMP is seriously undermined.
"Worse than that, the party then suffers the punishment of losing all that funding and trying to make it up in other ways. Again that's a punitive cost against the party that itself has done nothing wrong other than, in Mr Horan's case, removed someone who's not fit to be in Parliament."
Mr Peters believed the rule would be enforceable under contract law.
NZ First has tried to introduce a new "waka hopping" law via a members bill, but Mr Peters said that attempt failed after other parties refused to support it.