Album of pictures taken by a Kiwi documenting life of WWI soldiers to be digitised by Turnbull Library.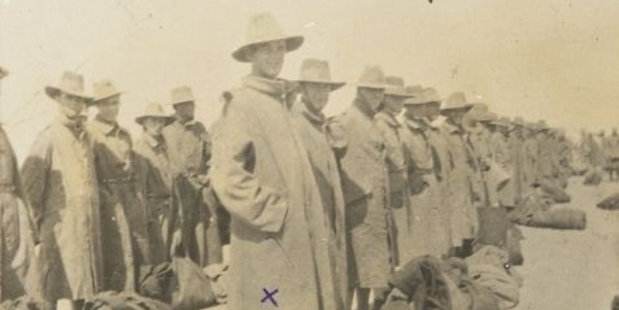 A touching snapshot of life in the trenches of the Western Front has been displayed for the first time.
Waitara telegraph linesman Leslie Robert Pepperell signed on for the army in June 1916, aged 32.
He set off from Wellington as part of the 9th Reinforcements, 4th Battalion, H Company, bound for the brutal fighting in Western Europe.
He took a remarkably advanced piece of kit for the day - a soldier's camera. As small as a box of matches, it could be slipped into his pocket.
Now, his collection of 111 original 6.5cm x 4cm photos, carefully organised in a school exercise book, has gone on display at the Alexander Turnbull Library in Wellington.
The Pepperell album shows soldiers giving each other haircuts, lining up for dinner and church services in the African desert, clothes being fumigated, and soldiers fooling around.
The Alexander Turnbull Library made the album available after the photos came out of copyright this year. It can be viewed on request at the library and will now be digitised for online research as part of the museum's drive to make its collections more publicly accessible.
The library also holds the official World War I photograph album. Photographic archive curator Natalie Marshall said the Pepperell collection offered a "much more immediate and personal" insight into life on the frontline.
"While we hold the official World War I photograph album, the Pepperell album provides a different view - a much more immediate and personal take of day-to-day life."
The album includes postcards taken from German prisoners, returned soldiers' railway tickets, newspaper clippings, and Corporal Pepperell's certificate of discharge.
It also contains seven silk-embroidered postcards made by French and Belgian women who sold them to soldiers on the Western Front.
Although the military brass frowned upon the use of cameras at the front, soldiers had plenty of motivation to take photographs.
As well as being able to stay connected with their families back home, some British newspapers offered huge fees for photos from the front, advertising their offers in New Zealand newspapers such as the Evening Post.
"It was an adventure and trip of a lifetime which they would have wanted to document," Ms Marshall said. "But as the war went on and the reality of war took hold, things obviously would have changed."
Pepperell was promoted to lance corporal shortly after taking part in the infamous Passchendaele offensive on October 12, 1917 - the darkest day in New Zealand military history, where the fighting for the tiny Belgian village saw 846 Kiwis killed.
He was discharged in April 1919 and died in 1963.
The Pepperell album
• Collection of 111 World War I photos take by Leslie Pepperell.
• Held at the Alexander Turnbull Library, Wellington.