Yellow discs to help people with poor sight will be changed.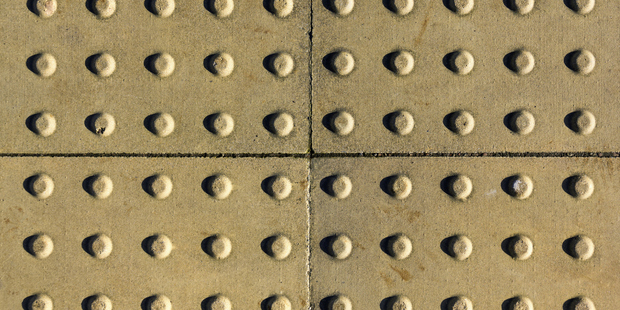 Please could you find out when the yellow, round, smooth tactile paving installed for the benefit of blind and visually impaired people on the east side of Davis Cres, Newmarket, will be replaced with the non-slip type installed on other sites like the Broadway/Khyber Pass intersection? Three weeks ago in the rain I slipped on an area of the smooth discs in Davis Cres, near a physiotherapy clinic, suffering a painful lower back injury. I have since found this paving to be slippery even when dry. I appreciate the importance of the yellow dots but would suggest that it would be safer for all if they were replaced with the non-slip variety. Vicki Ross, Epsom
Auckland Transport staff would like to thank Ms Ross for raising this issue and they regret that she slipped on the paving and was injured.
Staff have since checked the tactile paving at Davis Cres and will be replacing it.
What happens to the new electric trains if there is a power cut? Do they stop operating? What happens to the passengers if there is a long delay? Mark Brownlow, South Auckland.
With no power from the overhead system the electric trains will come to a safe stop. The brake system is designed to prevent any further movement.
There are very large batteries beneath the floor in the centre car with enough capacity to provide lighting, fresh air and communications for up to three hours.
The electric trains are designed to be able to be recovered by a diesel locomotive so, if power was not restored for a long period, it is possible to get a tow home.
An Auckland Transport newsletter back in November reported on progress with Eastern Transport Initiatives, including the new Panmure Station. Several years ago there was discussion regarding extra stations on the eastern line. One suggestion was a new station between Glen Innes and Meadowbank stations to improve access to the ASB Stadium and Selwyn College. Do you know if there has been a commitment to provide extra stations, and if so, where and when will they be built? Allan Robertson, Auckland.
Auckland Manukau Eastern Transport Initiative does not include any plans for new rail stations. There have been proposals in the past for a new Tamaki station as well as one between Glen Innes and Meadowbank but these have not been advanced.
*A clarification on train ownership from last Tuesday's column, and to answer Graham Neill's question about who owns what: Auckland Transport owns the trains (KiwiRail owns a few of the locos that are used too). Transdev operates the services under contract to Auckland Transport. Transdev Auckland was formerly called Veolia Transport Auckland. KiwiRail manages the rail network, operates rail freight and long distance passenger services, the interisland ferries, and the commuter rail services in Wellington.
Tell us
Do you have a question for Phoebe? It can be about transport or any Auckland issue. Email askphoebe@nzherald.co.nz