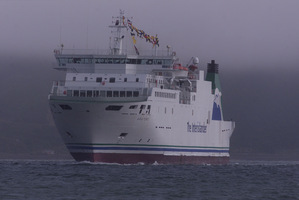 Kiwirail says its beleaguered Interislander ferry the Aratere is expected to be back in service towards the end of June.
The ferry has been undergoing repairs since losing a six tonne propeller worth $200,000 during a ferry-crossing on November 5, which took 35 days to be recovered.
Interislander General Manager Thomas Davis said the ferry was currently afloat in Singapore.
Once new rudders are added, the ferry would be trialled at sea for two to three days off Singapore in mid-May, during which time routine maintenance will ensure equipment is operating correctly, he said.
Successful sea trials will then mean the Aratere can take on fuel and return to NZ over two weeks.
"Safety is Interislander's prime concern and intensive and ongoing maintenance is a critical part of ensuring our ferries are kept safe," Mr Davis said.
Once back in Wellington, Singaporean equipment would be removed, and fittings and equipment from the Stena Alegra would be reinstalled on the Aratere over a weekend.
The Stena Alegra has served as the Aratere's replacement. It broke down after suffering a partial loss of power while leaving Wellington on January 17 and then suffered a gash in its hull during "extreme weather conditions" at the Wellington ferry terminal on April 8.
Last week, Stena Alegra crew members were struck down by a contagious illness which caused staff to be juggled and crossings rescheduled.
The Aratere is being repaired at Singapore's Keppel Shipyard, where a minor fire recently broke out on another ship.
KiwiRail has denied media reports this would delay the Aratere's repairs.
"It hasn't affected us,'' a spokeswoman said.
- APNZ