British visitor has recovered only slowly from unprovoked attack, but holds no grudges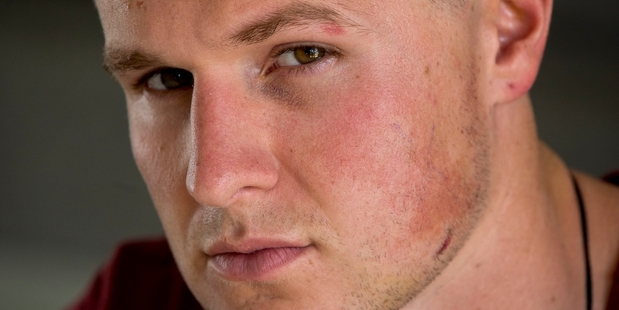 A British professional cyclist assaulted while competing in New Zealand can only now finally open his jaw properly, almost six months after being attacked.
Matt Cronshaw, 24, was king-hit in an unprovoked attack in November - just days after winning one of the stages of the Tour of Southland - because he was wearing a colourful T-shirt with cats on it.
A stranger took exception to Mr Cronshaw's cat-print T-shirt and floored him with one punch. Mr Cronshaw was knocked unconscious for about three minutes, suffering three fractures to his cheekbone and eye socket.
Last week, 24-year-old mechanic Sean Collis was sentenced to six months' community detention for the attack, and ordered to pay Mr Cronshaw $1000 in reparation.
Speaking to the Herald from his British home, Mr Cronshaw said the community detention was probably fair but the reparation did not come close to what he had lost.
He had only recently regained full function of his jaw, he said.
"It only took a month for my cheek to be strong enough not to worry about knocking it and breaking it again, but it took two months before all the swelling went and I've only just been able to open my jaw fully again, as it had been quite restricted."
His professional and personal life also suffered, as he missed six weeks' training and some of his New Zealand trip. And he was now wary when going out at night, he said.
Mr Cronshaw was out with friends when he was confronted by three men - one of whom was Collis - outside a Takapuna bar. He was wearing his multicoloured T-shirt.
"I kind of wear it because it's a bit funny, it's a talking point," he told the Herald in December, as police hunted for his attacker. "They called me a faggot or something. I asked him what his problem was and asked why he didn't like cats."
He doesn't remember the punch, he said.
"My mate said it sounded like movie sound effects, like two planks of wood smacking together."
The attack occurred just weeks after 26-year-old Auckland student Tarun Asthana died as a result of a one-hit assault from naval rating, Grenville David McFarland, in central Auckland.
The effects of a single punch could be devastating, Mr Cronshaw said. It was just luck that he had no lasting damage. "Ultimately, I'm happy to be in one piece," he said.
"The reparation isn't quite what I had in mind. I missed out essentially on two-thirds of my trip [and] paid nearly $2000 for the flights alone," he said.
"But there are unfortunately people who take actions like this in every country, so I don't in any way hold it against New Zealand. I would love to come back this summer and do the things I'd planned."
What is community detention?
*Community detention requires an offender to be electronically monitored with an anklet, and be under a court-enforced curfew.
*The curfew means they must "remain at an approved residence at certain times specified by the court''.
*Community detention is imposed on offenders with a low level of risk.