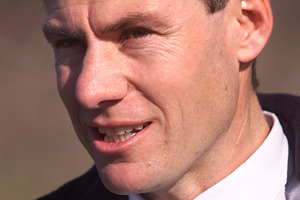 Police say a man repeatedly punched an officer in the face in front of his grandchildren during a stolen firearms raid this week.
Waikato Tactical Crime Unit Detective Sergeant Neville Ross said the ordeal began on Tuesday afternoon when officers went to a Kaihere property to speak to a 34-year-old man in relation to an alleged burglary of a home, in which a number of guns were stolen some months ago.
"On our arrival at the property the man's 61-year-old father was one of several family members police came across in the lounge while the man we wanted to speak to was asleep in a sleepout.
"The man's father, who is a licensed firearms owner, offered to show our staff where his legitimately owned firearms were secured in his safe. But when he went into his bedroom accompanied by two of our officers, the father picked up a military style semi-automatic rifle," Mr Ross said.
The situation became volatile when the father allegedly refused to put the gun down, instead pointing it at the police.
He was disarmed but allegedly attacked one of the police officers as he was brought out of the bedroom, punching him repeatedly in the face before he was restrained, handcuffed and removed from the house.
It was very disappointing that the man's grandchildren had been present and witnessed the attack on the officer, Mr Ross said.
While the father was being arrested his son, who was the person police had originally gone to speak to, had been brought from the sleepout into the house, and allegedly tried to physically prevent officers arresting his father.
"This resulted in the son's arrest. When he was secured a search was [made] of his sleepout which resulted in recovery of a small amount of cannabis and a DVD player."
A serial number check of the DVD player revealed it was stolen in 2008, police said.
The 61-year-old is facing charges of unlawfully carrying a restricted weapon, leaving a firearm loaded, unlawful possession of a restricted weapon and assaulting police. The 34-year-old was charged with misuse of drugs, obstructing police and receiving stolen property.
Inquiries were being made into tracing the eight firearms and other miscellaneous property taken in the earlier burglary, Mr Ross said
Owners of valuable property were encouraged to enter serial numbers on databases such as snap.org.nz.
- APNZ