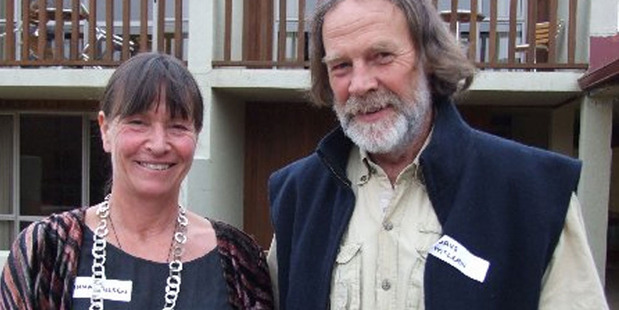 They might not be the most fragrant sleeping companions, but if you have to spend a freezing night in the open, the farm dogs are definitely man's best friend, says Otago farmer Dave McLean.
And he should know. A day snowraking and mustering sheep with his wife Anne Nielsen on their Lowburn Station property ''turned to custard'' on Wednesday.
They had been dropped off by helicopter on Mt Pisa to rescue about 100 sheep stuck in deep snow.
The couple split up, moving separate mobs of sheep ''and the plan was to do that and then walk merrily home'', Mr McLean said last night.
It took far longer than expected. Ms Nielsen contacted emergency services at 9pm after her husband failed to return home.
She spent a sleepless night after police launched a search for the 64-year-old, using a helicopter equipped with night-vision gear.
Just as the search was about to be ramped up yesterday morning, and while she was talking to Wanaka police on the phone, her husband walked through the door of their home, oblivious to all the drama.
''It was quite an emotional moment,'' she said. The trek home was further than he realised.
''I worked for probably three or four hours on a snowdrift to get this mob of sheep down the ridge and then I turned around and the dogs had a silly grin on their faces and the sheep were back where they started, on the top, so I lost a lot of time,'' Mr McLean said.
He walked for many kilometres ''and the cold kept me going once I realised I wasn't going to make it home that night''.
Mr McLean carried on for a couple of hours after darkness fell.
Eventually, he found somewhere below the snowline to sleep for the night, under a tree. That was where his two farm dogs redeemed themselves.
''You're doing pretty well in the open if you've got a couple of dogs. It was well below freezing - pretty chilly, but they kept me warm.
"They are not exactly pleasant to snuggle into though, as you can imagine. They don't smell too good.''
During the evening, he thought he heard the neighbours' frost-fighting windmills going. He realised later it had been the helicopter searching for him.
He was embarrassed to learn about the search but thankful so many volunteers, along with the police, had turned up to help.
''I feel a bit silly that they were looking for some silly bugger that was curled up under a tree, and I'll probably get a bit of ribbing from my mates,'' Mr McLean said.
''I'm grateful too, though. When you're up there in the high country, if you stuff up, there's not much chance ...''
He was dressed in warm clothes and he and his wife each had ''line of sight'' radios that worked for up to 2-3km.
Cellphone and radio reception was patchy and although he left messages on the radio for his wife, to say he was OK, she did not receive them.
The batteries in his headlamp also died after a few hours.
''I should've had spare batteries with me and we've got personal locator beacons too, at home, but usually only take them if we are out on our own mustering.''
Wanaka police search and rescue incident controller Senior Constable Mike Johnston said Mr McLean was a ''very hardy, capable, high country farmer'' who got ''caught out in the conditions'' because of the amount of snow.
The couple had both taken the right actions, Ms Nielsen in contacting emergency services and Mr McLean in taking cover and staying in one place after dark.
A new team of searchers, land and air crew, were about to start the second stage of the search at dawn yesterday and were being briefed when Mr McLean arrived back at his home, safe and well, Snr Const Johnston said.
Mr McLean was ''straight back into it'' after arriving home yesterday morning, drafting and shifting mobs of sheep to the winter blocks.
He was looking forward to a ''nice big fat gin and tonic - and maybe a bath'' last night and said his two farm dogs had been rewarded for their efforts with an extra bone or two.