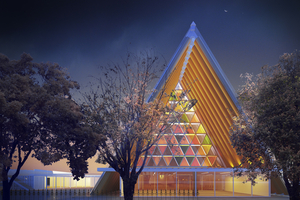 Heritage campaigners are demanding to know why the owners of quake-crippled Christ Church Cathedral want it demolished, when they have no plans and no funds to start building a new one.
The ongoing legal saga surrounding the future of the damaged 132-year-old Christchurch landmark returned to court today.
In 2012, the High Court ruled that the Anglican church was entitled to deconstruct the building, but only if a new one - and not necessarily a replica - was built on the same Cathedral Square site.
The Great Christchurch Buildings Trust (GCBT), fronted by former MPs Jim Anderton and Philip Burdon, challenged the decision in the Court of Appeal, which last year upheld the High Court's findings.
Last December, the Supreme Court dismissed a further appeal against the deconstruction.
Cathedral custodians, the Church Property Trustees (CPT), last year released three design options for a future cathedral.
They included full restoration costing; a timber replacement, or contemporary design, which the church said it preferred.
A defended hearing went ahead before Justice Graham Panckhurst at the High Court in Christchurch today, where CPT made an application to discharge a stay of demolition. The move would allow them to start deconstructing the cathedral to a "safe" height of 2-3 metres.
"It's time to move on," CPT lawyer Jeremy Johnson said today.
The Anglican Church wants to start the deconstruction process, which could take 12-18 months to complete, and the GCBT's attempts to continue fighting the deconstruction was "not appropriate", the court heard.
CPT admitted it made a mistake in using a $4 million insurance payout to start construction of the church's temporary cardboard cathedral on another site.
In 2012, the High Court questioned the legality of the move.
Today, Mr Johnson admitted they were wrong to do that and, after taking directions from the court, have subsequently found the money from elsewhere to build the cardboard cathedral, which is now complete.
They had also reallocated the $4m of insurance funds, plus $250,000 of interest, to other general purpose funds.
Any suggestions the cash was diverted in bad faith are "inappropriate, unhelpful, and untrue", Mr Johnson said.
But the GCBT's lawyer Francis Cooke QC questioned why the church wants to go ahead and demolish the building when it is not going to start rebuilding a new cathedral straight away.
Mr Cooke said the church "simply don't have the funds".
"It's possible that the church will never raise the funds for a new cathedral," Mr Cooke said, in stressing that it was too early to take the restoration option off the table.
The hearing continues, and should conclude later today when Justice Panckhurst is expected to reserve his decision.
***
The cathedral, designed by English Gothic designer George Gilbert Scott, was consecrated on November 1, 1881.
It withstood violent earthquakes in 1881, 1888, 1922, 1901 and on September 4, 2010. But its spire was snapped in the deadly February 22, 2011 quake.
- APNZ