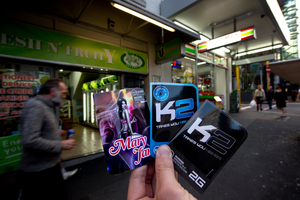 Labour has spoken out against testing legal highs on animals, saying there is no ethical basis for it.
Labour Party Leader David Cunliffe spoke at a conference in Mangere today, reaffirming the party's commitment to remove all forms of synthetic cannabis immediately from shelves until they pass a rigorous testing process to prove they are safe.
The announcement, made yesterday, was quickly overshadowed by Associate Health Minister Peter Dunne, who said the Government had already agreed to legislate a ban on legal highs within two weeks.
Earlier today, Prime Minister John Key admitted that one of the reasons for delaying the Ministry of Health-backed testing regime was the use of animals in testing. He would not reveal which animals would be used for testing, but said some cabinet members were comfortable with testing on rodents but not on rabbits.
Labour said it would block all testing of psychoactive substances on animals.
"We're saying the shape of the tail shouldn't be what makes the difference,'' Mr Cunliffe said.
There are currently 41 different forms of synthetic cannabis sold at 150 outlets nationwide, compared to around 300 products when the Psychoactive Substances Bill was passed last year.
Parliament reconvenes on May 6, with both the cabinet and opposition set to present their own versions of the legislation to be passed under urgency. Labour said it is ready to support the Government if the proposed bill is suitable.
- APNZ