Statue of driver moved from South Island.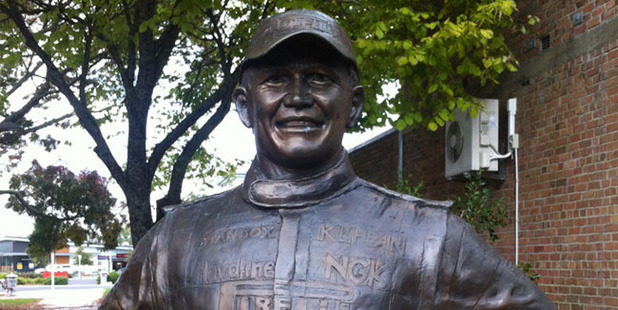 While on holiday in Wanaka recently, we stopped at Snow Farm to see the memorial statue erected for Possum Bourne. We were told that the statue was shifted a couple of years ago to Pukekohe Race Track and stands there, but no appropriate memorial plaque has been attached to it. Can you please tell me if this is the case and if there is any intention of placing a plaque at some stage in honour of this highly respected New Zealander? Linda Waters, Silverdale.
The larger-than-life bronze statue of the late Peter (Possum) Bourne is indeed now in his home town of Pukekohe, but it's in the Town Square, not at the race track. There is no inscription or memorial plaque, and I have no information about whether one will be attached in the future.
The statue was erected near Wanaka in 2004, the year after Bourne died from injuries he received in a crash on the Snow Farm access road.
Recently I've seen a message appearing on my television screen that reads: "On Thursday 1 May you may see NO SIGNAL/NO SERVICE on some channels.
If you do please retune your TV or receiver to restore all channels. Find out how on Channel 500, visit www.freeviewforum.co.nz or see your user manual".What does this mean and why are we getting this message? Annette Brownlie, Mt Eden.
This Thursday the transmission providers will be restacking some channels to refine frequency allocations assigned by the Ministry for Business Innovation and Employment. This restack will not affect viewers using a satellite dish. It may impact some viewers using a UHF aerial for TV reception.
The following channels may be affected for Auckland viewers using a UHF aerial:
Maori Television (ch 5), Prime (ch 10), Choice TV (ch 12), Sommet Sports (ch 14), Al Jazeera (ch 16), TVSN (ch 20), Yes Shop (ch 21), Parliament TV (ch 22), Firstlight (ch 25), Chinese TV 8 (ch 28), TV33 (ch 33), Radio NZ National (ch 50), Radio NZ Concert (ch 51), BaseFM (ch 71).
The following channels may be affected for viewers elsewhere using a UHF aerial:
Al Jazeera English (ch 16), TVSN (ch 20), Yes Shop (ch 21), Te Reo (ch 24).
So if you go to those channels and see the NO SIGNAL or NO SERVICE message on or after Thursday, May 1, you will need to retune your device to restore all channels. Go to Channel 500 and follow the instructions, or use the user guide for your TV, or visit the website above.
Once restored, all channels should have the same channel numbers as before. You don't need to retune before Thursday. If you are having trouble or are not sure how to retune, contact the store you bought your machine from.
(Source: www.freeviewforum. co.nz)